How to make healthy gluten free date balls
These gluten free date balls are fast and simple to make, and they're vegan, sugar-free and paleo! They only require 4 ingredients and no refined sugars. The perfect healthy hygge treat for kids and adults.
Mhm .. Is there anything better than sweets? Why yes! Healthy (and tasty!) sweets you can enjoy guilt-free!
These date balls without sugar and flour are simply so delicious that I eat them almost as fast as they're made. They're similar to oatmeal balls, just much healthier and a bit more firm.
Date balls are an amazing alternative to sweets because they're made without refined sugar. And – they are gluten-free and full of all kinds of nutrients, dietary fibers and healthy fatty acids for the body. And they are super quick to make. I made a double portion for my birthday party the other day and they were a great supplement to the cakes and birthday buns.
This post contains referral links for products I love. Danish Mom earns a small commission at no extra cost to you if you make a purchase through my links. Thank you for your support ♡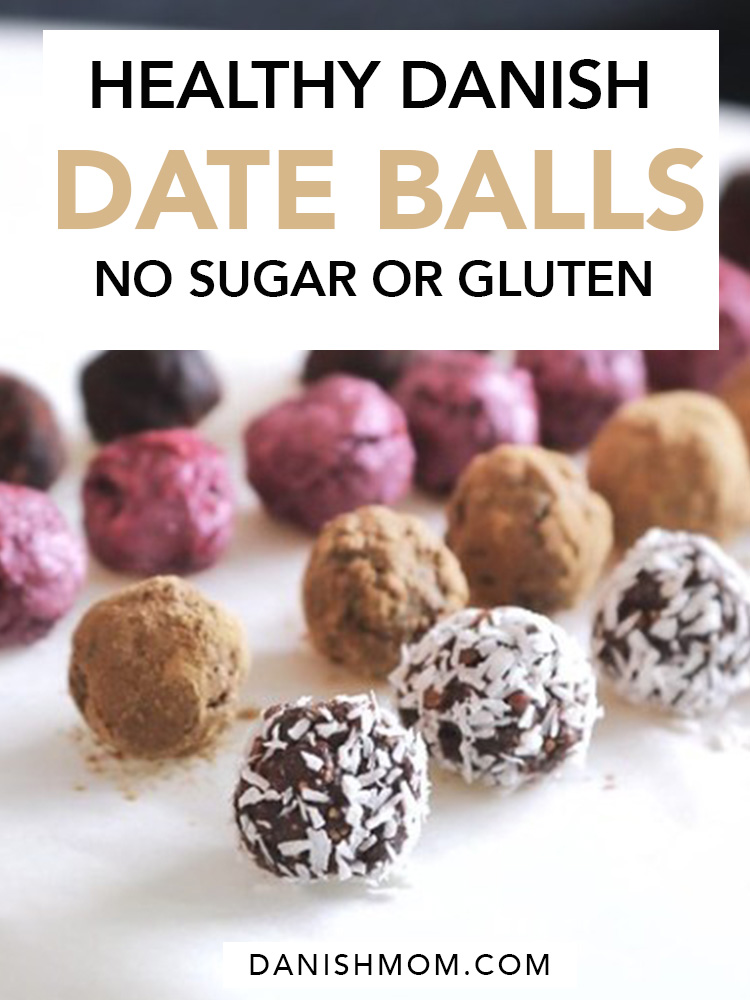 How to make fig date balls
So, what do you need?
Dates and figs: Nature's candy.
Almond flour: You can make this yourself. Simply blend blanched almonds in a a food processor, and process until they are finely ground. Voila.
Coconut oil: Also great for popcorn!
Food Processor: Chop chop.
Ready? Let's make some fig and date balls without sugar and flour!
Healthy gluten free date balls
15 pieces
Cooking time: 25 minutes
Ingredients
8 dates
4 figs
1,5 teaspoonful vanilla
4 tablespoon almond flour
1 tbsp cocoa powder
2 tbsp liquid coconut oil
Ideas for decoration:
Liquorice powder, cocoa, coconut, freeze-dried raspberries, gold, silver and pink dust or completely au natural.
Preparation:
Cut dates and figs into smaller pieces. Make sure the coconut oil is liquid. If it's not already, heat it on a low flame.
Blend all ingredients together into a uniform mass in a mini chopper, blender or mixer.
Roll medium-sized balls and decorate with whatever you fancy. My favorite is liquorice and coconut, but only your imagination sets the limits.
Put the date balls in the fridge. They'll last for 3-4 days (I reckon). I've never been able to test it, if you know what I mean.
Best things about these energy bites:
Main ingredients are always on hand: dates, figs, coconut oil.
Amazing texture. Just the right amount of squish and chunkiness.
NUTRITIOUS.
But not, like, grossly nutritious, you know? They still taste really good and can stand in for sweets.
Excellent with coffee for an afternoon snack.
One-bite.
No-bake.
No sugar! I repeat: NO SUGAR. You can snack with a clear conscience.
How to hygge
Sweets make everything hyggeligt, both eating them and making them.
If you're not a hygge convert already, it's a Danish concept and our way of life. Hygge is about an atmosphere, a feeling of home. A feeling that you are safe, feeling cozy and comfortable, and it often involves food and snacking.
So, to make this as hyggeligt as possible, nestle into a mug of coffee, bring out the date balls and get cozy with a warm blanket on the couch.
These date balls will definitely get the hygge going.
You might also like: