24 fun drillenisse ideas (The Danish Elf on the Shelf)
Danish Mom uses affiliate links, which means that if you make a purchase through my links, I may earn an affiliate commission.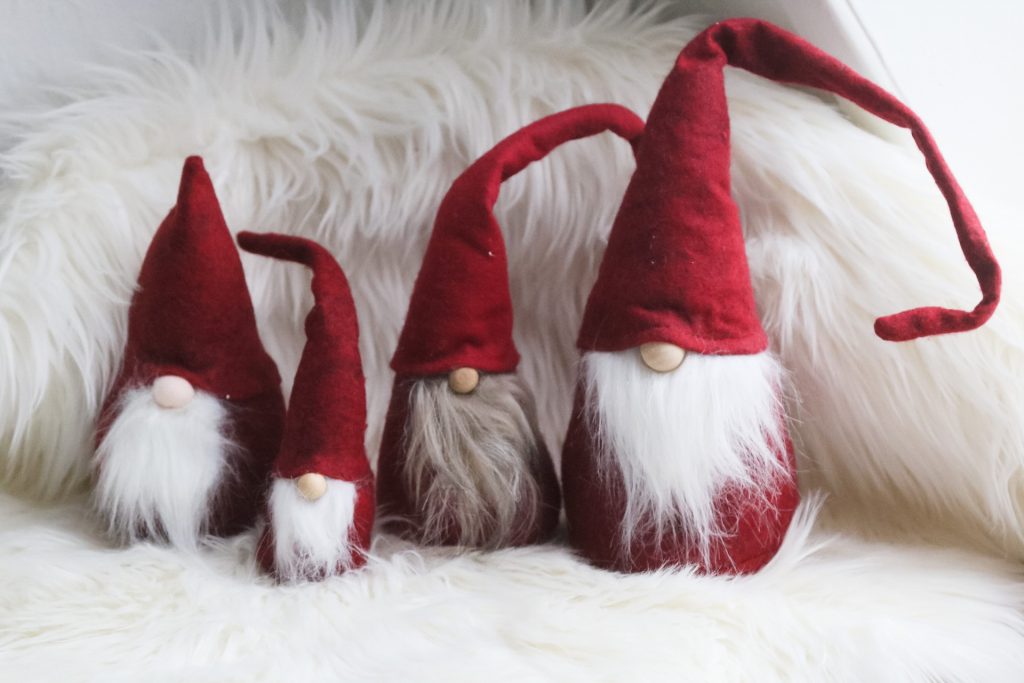 A drillenisse is one of the most beloved Danish Christmas traditions for kids. Parents, too! It's great fun and ups the hygge factor for everyone.
Here are my tips on how you can bring joy and Christmas spirit to your family with a Danish drillenisse.
Read next: 24 Danish ways to create Christmas hygge
What is a drillenisse?
A drillenisse is a prankster in Scandinavian folklore. You can't see him. So, what he's up to depends on you and your kids' imagination.
Traditionally, a nisse is a friendly goblin or pixie, dressed in a red blouse and wearing a red cap. It helps Santa, and it's a must in a Danish household during December. We decorate our homes with nisser, sing Christmas songs about them or make up stories about their pranks. If, for instance, I forgot to wash Theo's favorite sweater, I might blame the nisse for hiding it 🙂
A nisse is also the bearer of gifts. It loves playing pranks and it's also temperamental! According to tradition, if you don't keep a nisse satisfied – usually by leaving him a bowl of risengrød with a knob of butter on Christmas Eve, he will pull pranks on you.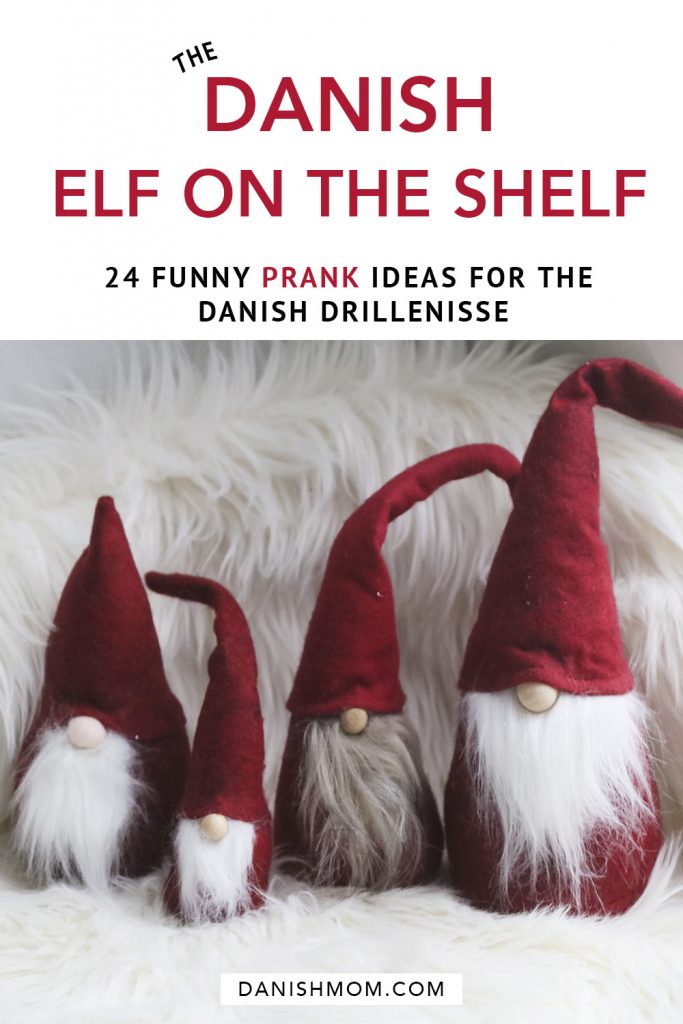 Is a nisse the same as Elf on the Shelf?
No. A nisse is similar to Elf on the Shelf, but there are some key differences.
Elf on the Shelf is a Christmas tradition where Santa's Scout Elves keep an eye on whether kids are behaving (or misbehaving).
Having a drillenisse isn't about getting your child to behave. I'm not a fan of the whole 'motivating with threats and fear'. A drillenisse is about having fun. It's sole purpose is to create hygge, joy and spark imagination.
Also, unlike Elf on the Shelf, you can't see a drillenisse – and that's what makes it so fun. It gets the imagination going for both the kids and parents.
Read next: 10 great ways to hygge as a family
Want to join in on the drillenisse tradition?
Where do you begin?
Well, you can make the drillenisse a part of your Christmas tradition in many ways. For instance, tell the children that the drillenisse moves in, send a letter to Santa and his drillenisser, or you can make risengrød for the drillenisse. He really likes that.
Drillenissen likes:
Risengrød
Christmas cookies (like gingerbread cookies)
Spruce
To hide things
To tease and play pranks
Leave little notes
Leave presents
He usually lives in the attic
Read next: How to get started with hygge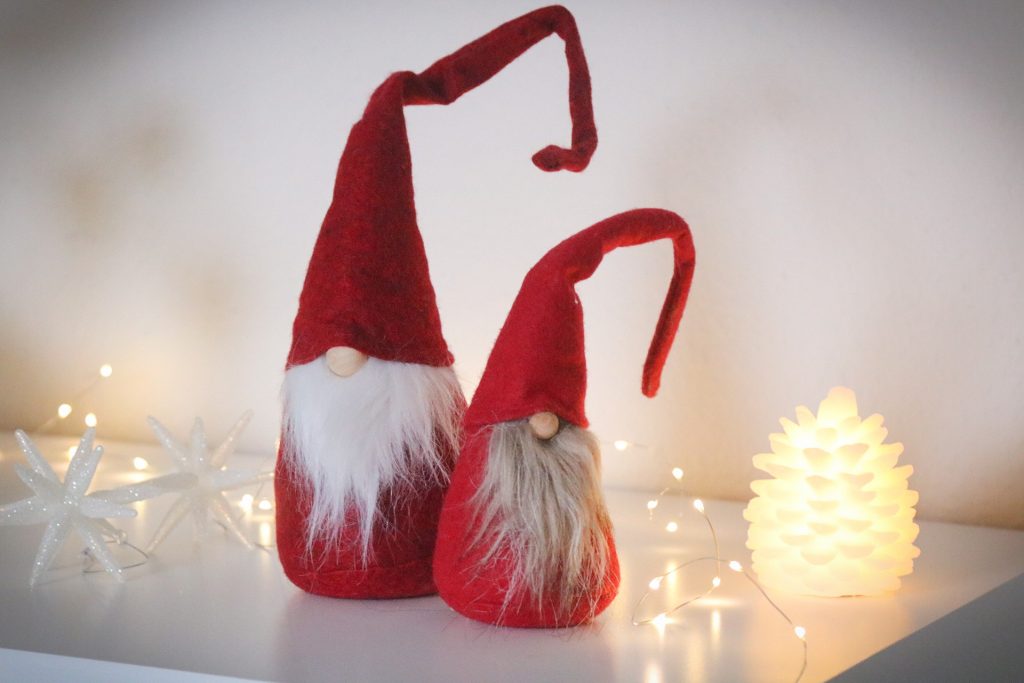 24 drillenisse ideas
Below, I'm sharing 24 ideas for drillenisse pranks. That's one for each day in December until Christmas Eve. You don't have to do them all – by all means, Christmas can be stressful enough.
Just do a couple of them and have fun with it. That's what matters.
December 1: Drillenissen has switched the children's lunch box with a fake one and hidden the real lunch in the gym bag (but of course he remembers to put a note in the lunch box that says where it can be found).
December 2: Drillenissen puts a tangerine in the gloves.
December 3: Boil some pasta and add fruit color. Then serve it for dinner and be surprised by the drillenisse's prank when your child sees it.
December 4: Wrap the children's school books in Christmas wrapping paper, so they'll be surprised when they open the bag at school.
December 5: Make tiny footprints on the table with a little flour and doll shoes. Act surprised when you see it, and look for the drillenisse with your child.
December 6: Replace the calendar candle with a carrot and make a big scene about it.
December 7: Drillenissen hides the iPad charger and has left a note, demanding risengrød. Luckily, mama had risengrød on the menu anyway 😉
December 8: Drillenissen puts a ribbon around the cat's tail or the dog's neck.
December 9: Drillenissen puts a nisse cap on your child's favorite teddy bear.
December 10: Replace the bulbs in your children's night lamp with a blue one, so they get a surprising and colorful light when they turn it on.
December 11: The drillenisse has taken a bite of the sandwich and carrot in your child's lunch. As an apology, it has left a little cookie.
December 12: Put confetti in the bedtime story book, so that fine confetti sprinkles out when you open.
December 13: Suddenly, hats and scarfs are not in their usual place. The drillenisse has hidden them under the sofa, in the fridge or the shower.
December 14: Swap your duvets and pillows so that your children's bedding is in your bed and vice versa.
December 15: Swap the contents of cartons and bottles – so that there is milk in the juice bottle and juice in the milk carton.
December 16: Put brownies in the oven (use pre-baked to make it easy for yourself). Then pour some flour on the kitchen table so the kids think that the drillenisse has been baking cookies.
December 17: Add a little blue fruit color to the milk and let the kids be surprised when you pour them a glass.
December 18: Where are the socks today? The drillenisse has put everyone's socks in the freezer – luckily, mama had an extra pair for all of you.
December 19: The drillenisse can get a bit lonely when the kids are at school or in day care. So, he has decorated the mandarines with cloves so they look like faces.
December 20: Carefully put nail polish on your children's thumb while they sleep. Then blame the drillenisse when they wake up and ask where that nail polish came from.
December 21: The drillenisse is feeling festive, so the children's bikes or your car have a lot of colorful balloons tied around them – on the seat, handles or wheels.
December 22: During the night, drillenissen has tied all the shoes together.
December 23: Replace the box of cereals with Lego bricks, so that your child is surprised when small Lego bricks fall into the breakfast bowl.
December 24: Drillenissen writtes 'Merry Christmas' with porridge rice on the table.