24 Danish ways to create Christmas hygge
Danish Mom uses affiliate links, which means that if you make a purchase through my links, I may earn an affiliate commission.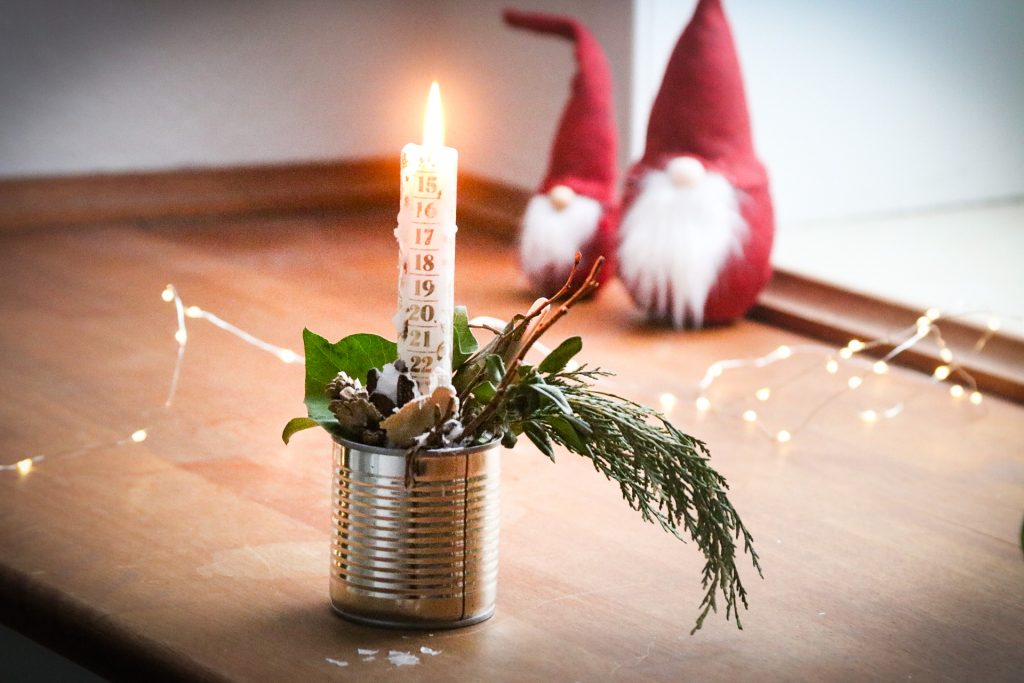 Want a cozy home this winter? Here is how to make your home hygge for Christmas so you can rest, relax, and enjoy your family.
Read next: 10 ways to hygge as a family.
How to create Christmas hygge the Danish way
Christmas is the high season of hygge. Danish winters are dark and long, and so we get through this with hygge, family time, and lots of candles.
For us, Christmas is a time to stay home, enjoy hygge and slow down. I hope my list can inspire you to do the same.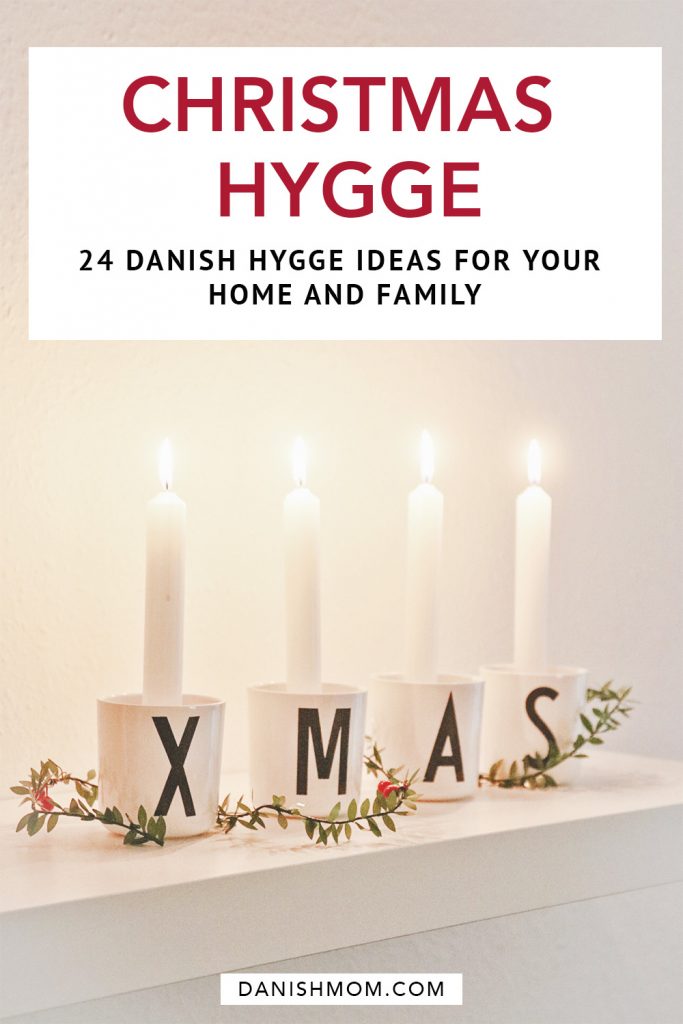 1. Make it a joint effort to create Christmas hygge
Hygge is a joint effort and everyone has to pitch in. Start by asking each other how you want to make December special.
It's important that everyone feels that they have a share in the Christmas hygge. Not everyone might think baking is fun. So, maybe some of you can bake together while others are in charge of making Christmas decorations and buying Christmas trees.
2. Put your presents under the tree now so you can see them
Now, if you have small kids, this might not be super easy. But at our house, Theo's two presents for us (he made them in Kindergarten) is lying under the big Christmas tree, and he talks about them every day. "Look mom, those are for you!"
3. Pick a beautiful wrapping paper
Get in the Christmas spirit with a beautiful wrapping paper. Choose simple colors and motifs for a minimalist look.
4. Decorate the Advent candles
Use something from nature. Like flowers or small spruce branches. Use dried or faux flowers and they will last all of December.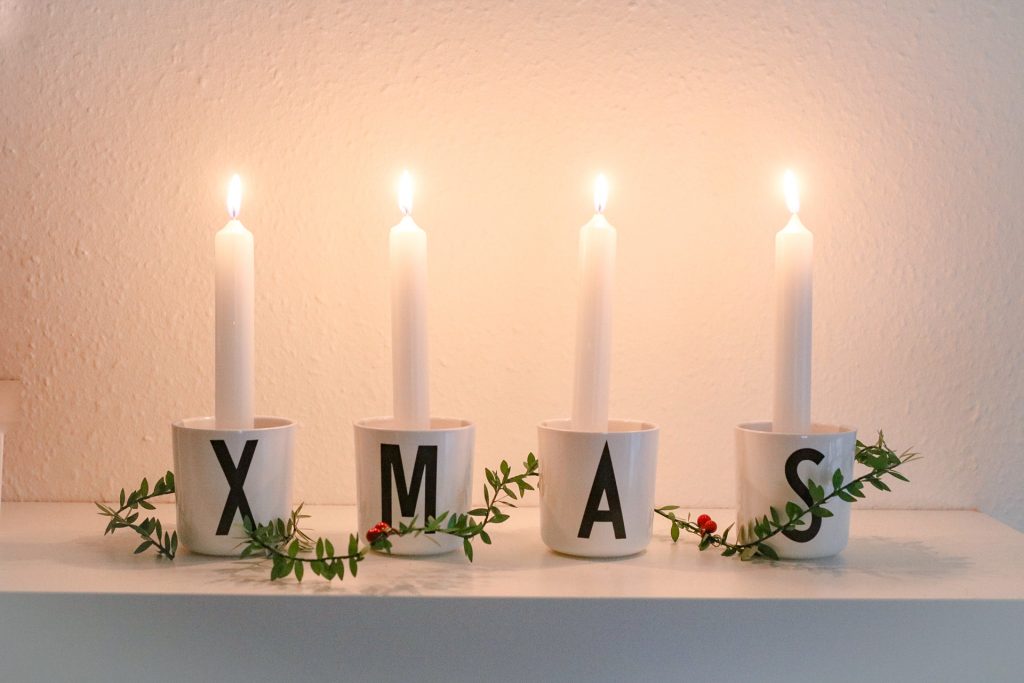 5. Hang up a mistletoe
Create a magical Christmas atmosphere with a beautiful mistletoe in the door or by the stairs… and kiss each other whenever you walk under it.
6. Decorate a scandi Christmas tree
Create an eye-catcher on your Christmas tree by choosing only decorations in snow-white, midnight blue or maybe Christmas red, or create a wow effect with exclusively golden tones.
7. Choose minimalist colors
Can Christmas be stylish? Stick to black and white shades, and use gold, brass and golden glitter to create a warm, cozy look.
8. Go all-in on velvet
I love velvet pillows. They're so smooth and soft, which makes them perfect for creating an intimate hygge Christmas mood. Feel free to choose dusty, dark colors that go beautifully with the dark spruce tree. Get yours here.
9. No Christmas without the stars
I've always had a large hanging star. But this year I bought a table star, and I LOVE it. I also hang up star lanterns, they create a wonderful hygge home.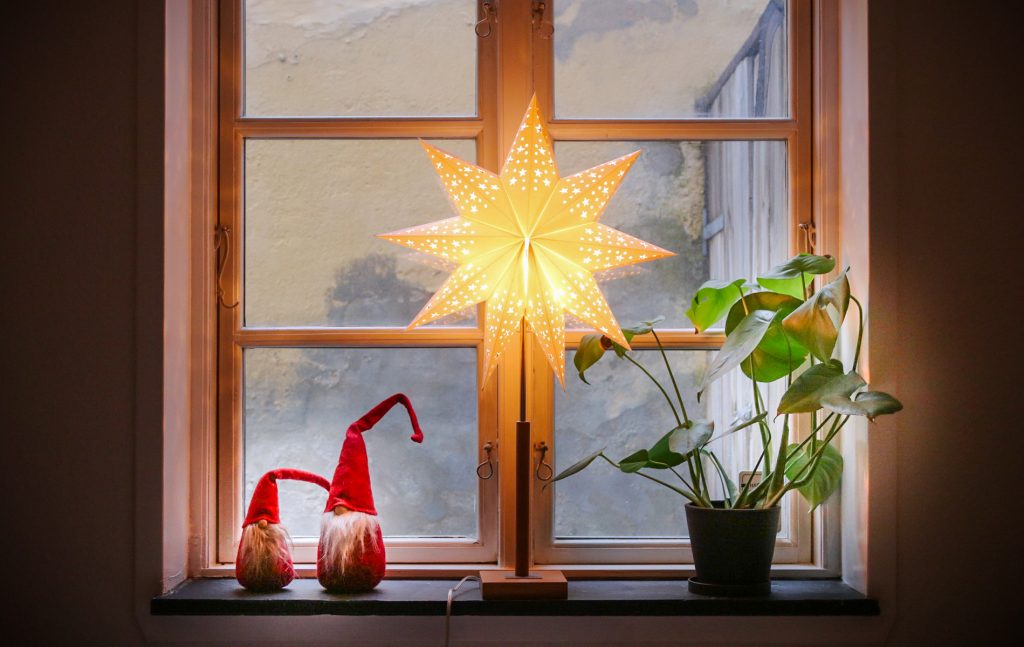 10. Create your own Christmas decoration
Be creative and let the kids help. All you need is a few candles, some clay, spruce branches and cones and whatever else you can think of. The only limit is your imagination.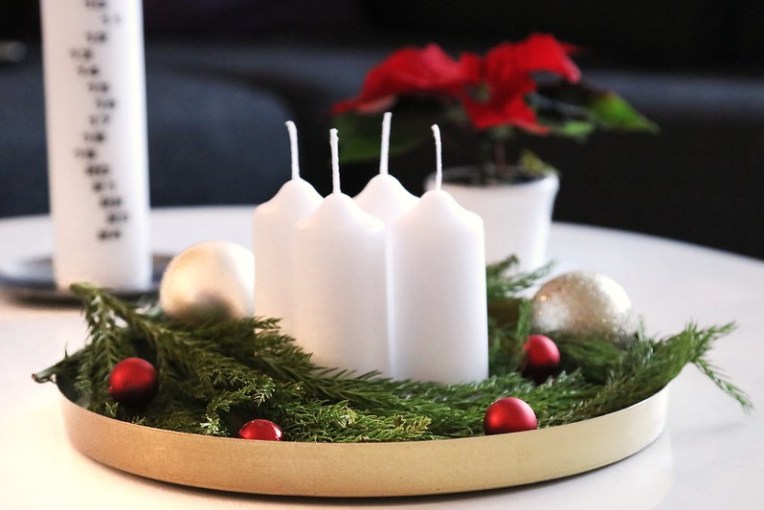 11. Read a Christmas story
Reading aloud is a great way to create hygge at home. You can pick a Christmas story, but any story would do, really. The goal here is to spend time together.
12. Decorate your house with nisser
Definition of nisse:
A nisse is a friendly goblin in Scandinavian folklore. It's dressed in a red blouse and wearing a red cap.
We decorate our houses with nisser for Christmas, and we have names for them: nisse dad and nisse mom. Nisse dad is usually always a bit grumpy, but in a friendly way. Get your Scandinavian nisse here.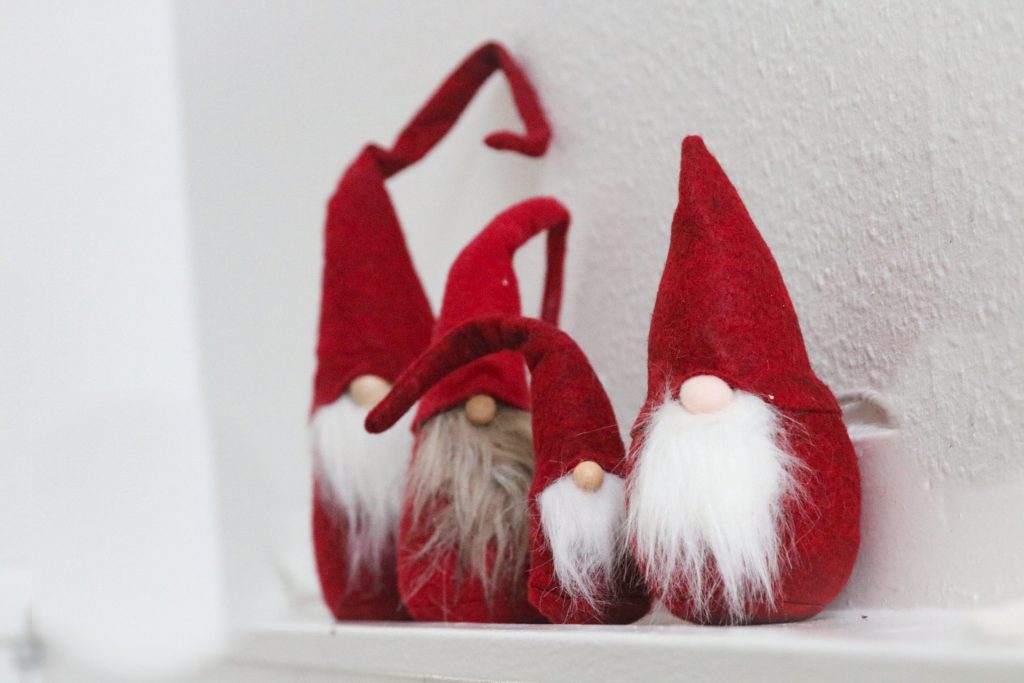 13. Eat traditional Danish Christmas food
Christmas in Denmark is ALL about food. We all lots of Danish Christmas food during December, including sweets. And then we have Christmas lunches – a Danish tradition that typically involves plenty of food and alcohol, and it's held on weekends.
Some of the typical Danish Christmas food includes:
Æbleskiver & gløgg ('apple slices' and mulled wine)
Risalamande & risengrød
Klejner
14. Find the almond in the risalamande
This is a Christmas Eve tradition, but you can make risalamande on any given day. Risalamande is a cold rice pudding made from rice, sugar, vanilla, whipped cream and chopped almonds, served with cherry or caramel sauce.
According to Danish tradition, a whole almond is added to the desert, and the person who finds it wins a present. Now, the finder is supposed to conceal his discovery as long as possible, so the rest of the family is forced to eat the entire bowl of risalamande while trying to guess who found it. Danish humor at its best.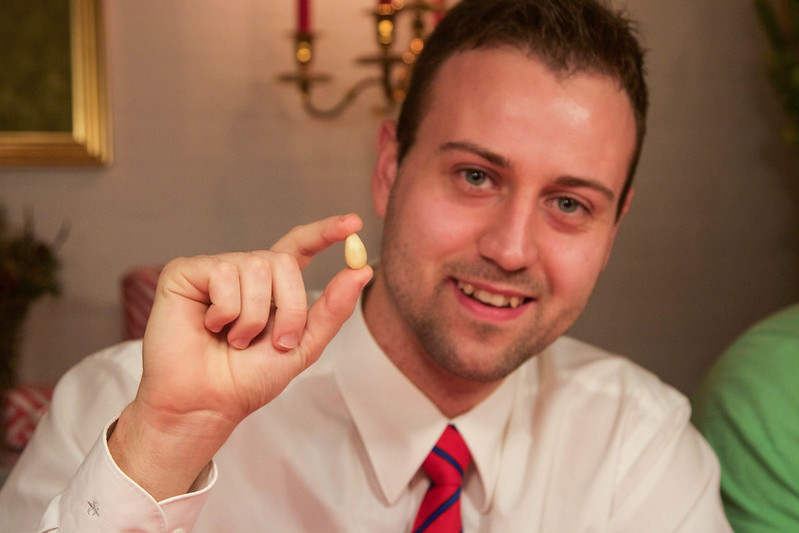 15. Get a Christmas calendar (and one for you, too)
Christmas calendars are huge in Denmark. You can buy them with lots of delicious candy in all shapes and sizes. Thomas always gets me my favorite from Johan Bülow (one with liqourice) and Theo gets one with chocolate.
Since they might not be available where you live, you can make one yourself or get one with toys, like this one from LEGO.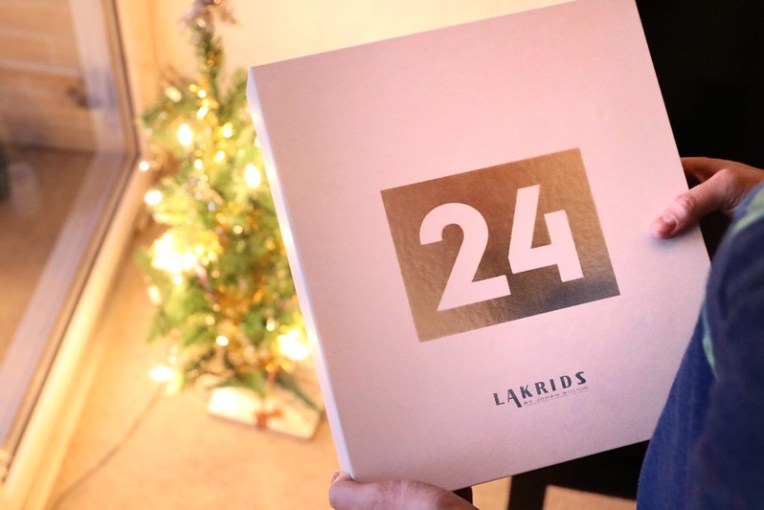 16. Light a candle every Sunday
A Danish Christmas tradition is to light a candle on each of the four Sundays of advent. It's a great way to mark the countdown to the big day, and lighting candles helps to create a relaxed and hyggelig atmosphere in your home.
Read next: How to get started with hygge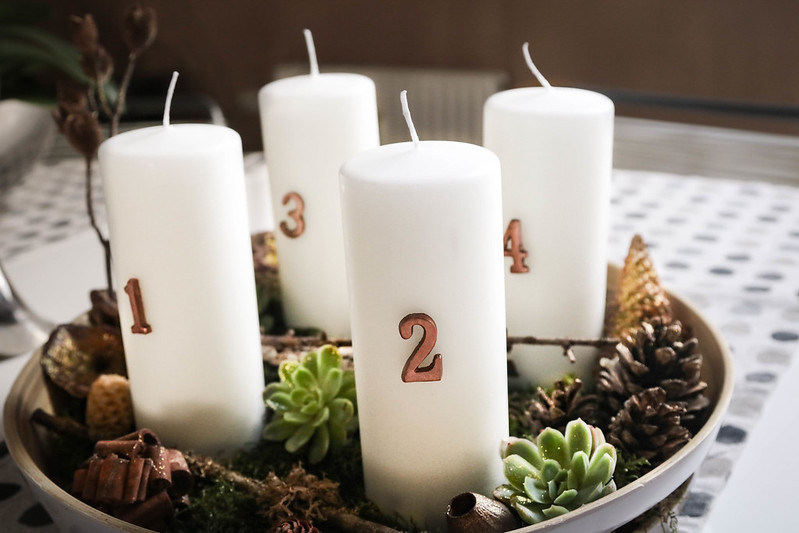 17. Light the calendar candle every day
In Denmark, we also have a tradition of lighting a calendar candle every day. Let it burn for about an hour until it reaches the next number. Then light it again the day after. This is especially hyggeligt to do in the morning when it's still dark outside.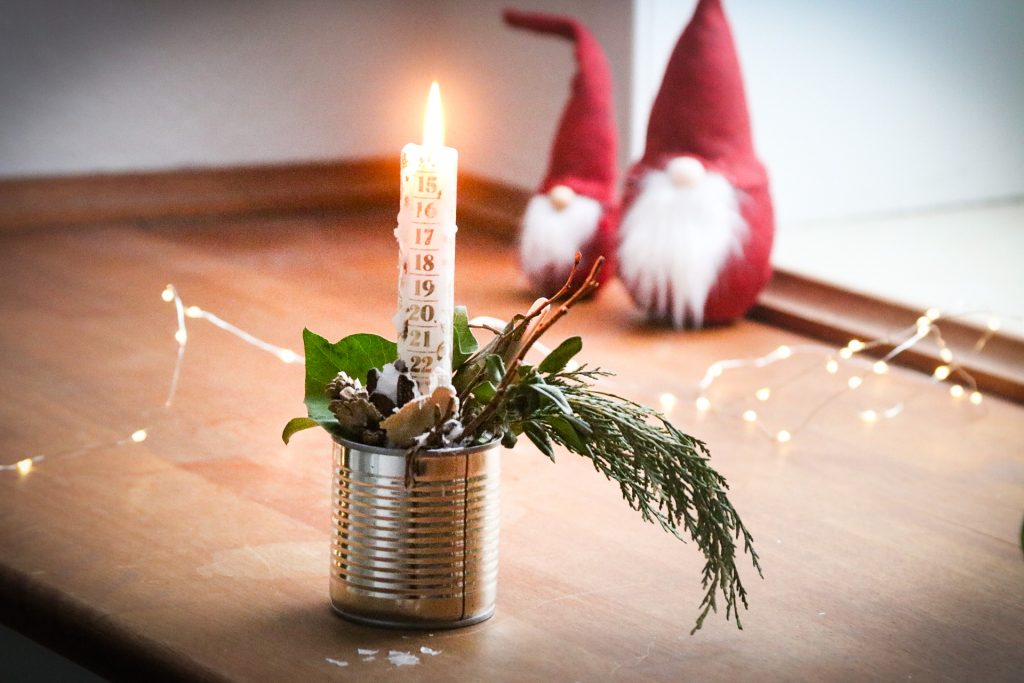 18. Carve out one weekly afternoon for family hygge
Christmas hygge only happens if you make time for it. So, make it a priority and carve out a weekly afternoon for family hygge.
Read next: 10 ways to hygge as a family
19. Make a DIY Christmas tree
This is particularly great if you have a small living room or just don't want a huge or real Christmas tree. All you need is a plastic tree, light bulbs, a basket and faux lambskin.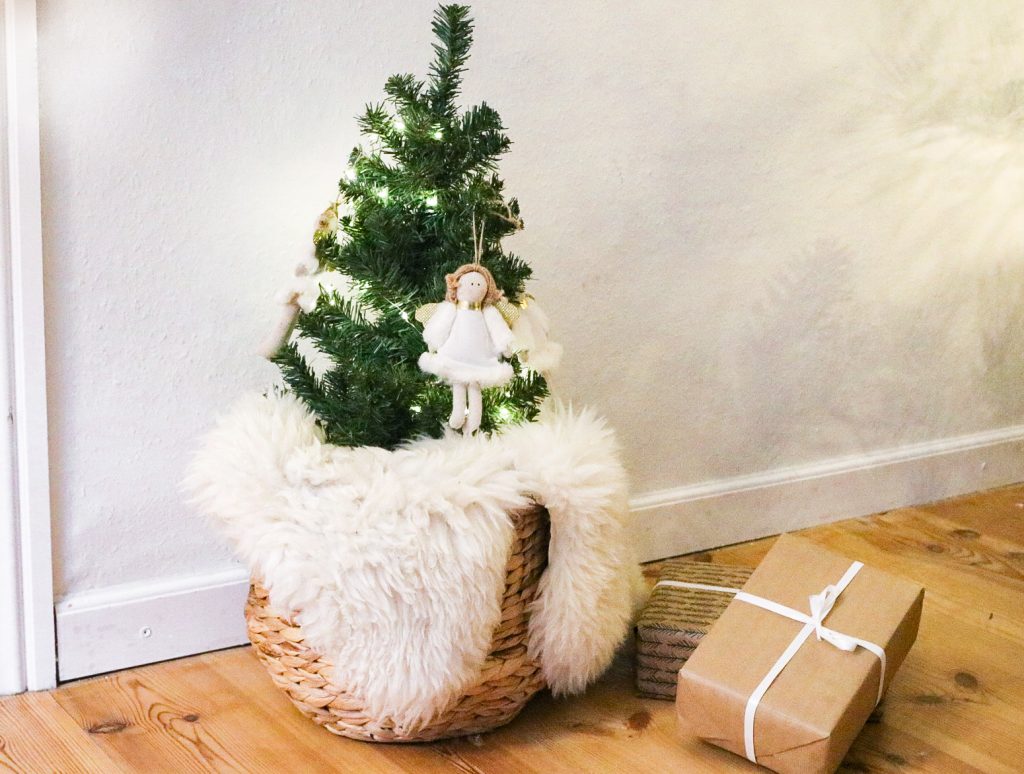 20. Watch a Christmas movie together
Put on your PJs, find a warm blanket and snuggle on the couch with your kids. It's time to binge Christmas movies on Netflix.
Read next: What is Nordic hygge?
21. Pick up a real Christmas tree
From the smell of the evergreens to the nip of the crisp winter air, there's nothing like picking out (and maybe also cutting down) the perfect Christmas tree to kick off your holiday season. Just check first if you need a permit and use the right gear.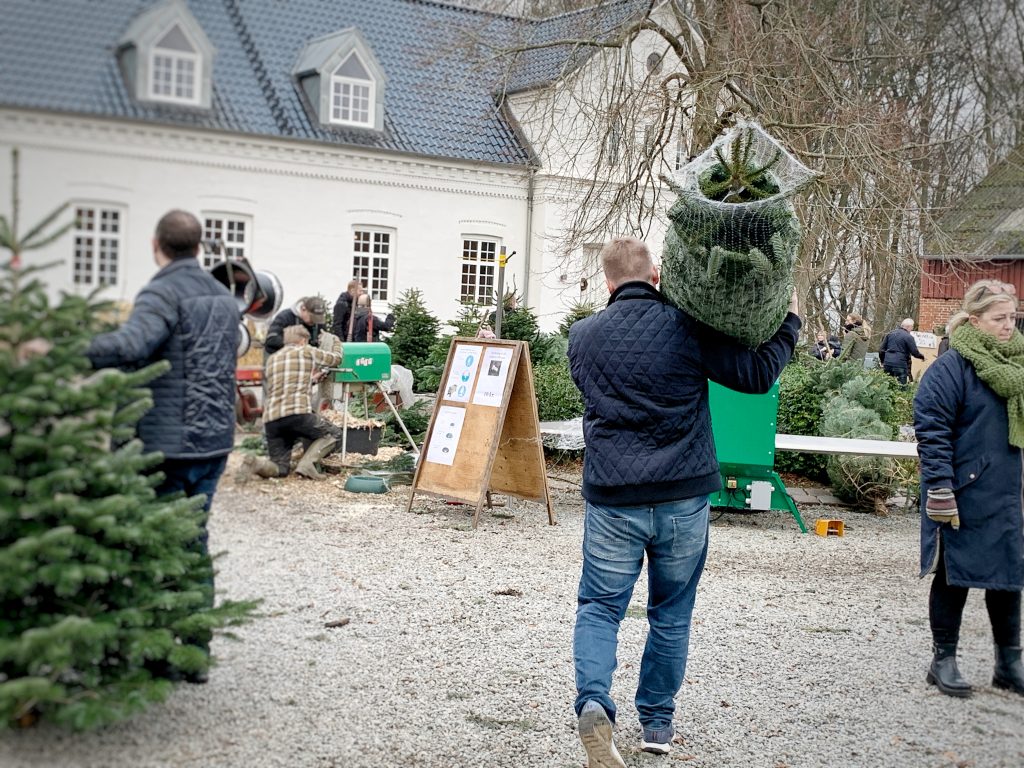 22. Let the drillenisse move in
A drillenisse is similar to Elf on the Shelf, which is a tradition to encourage kids to behave themselves. A drillenisse doesn't come with a moral code, though. It's only there to create hygge and fun for the kids.
Basically, you, the parent, make up pranks for the kid. Like replacing the bulbs in the children's night lamp with a blue one, so they get a surprising and colorful light when they turn it on. When they ask why it's blue – blame it on the drillenisse. You can also cut the bristles off the toothbrush, and blame the drillenisse for all the toothbrush fuss.
Read next: 24 fun drillenisse pranks for Christmas
23. Make risengrød
Risengrød is one of the staples of Danish Christmas food. Back in the day, they cooked risengrød in the bed, which takes a heavy-bottomed pot, a blanket and a lot of patience.
My recipe is simpler:
1.5 dl pudding rice
1 litre full-cream milk
1 tbsp salt
Let the full-cream boil. Be careful not to burn it. When it boils, add the pudding rice. Make sure to stir regularly. Cook for 35 minutes, then add the salt, and you're done. Risengrød is eaten with homemade cinnamon-sugar and a knob of butter.
Mhhm.
24. Make Christmas cards
Make small Christmas cards and send them to family and friends. It's a good way to teach your toddler about the joy of giving and how happy grandma gets when she receives the Christmas card.