10 bottle feeding must haves that'll make your life easier
Danish Mom uses affiliate links, which means that if you make a purchase through my links, I may earn an affiliate commission.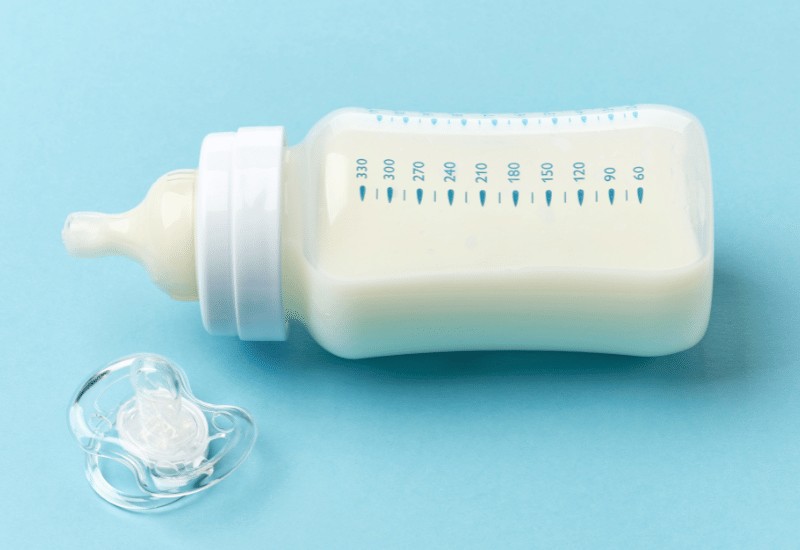 When feeding, or preparing to feed, your little one, there are a few bottle feeding must haves that your and your baby simply can't do without. This applies to whether you're formula feeding or pumping breast milk.
There is bottle feeding equipment to make your life easier and the feeding process both safer and more comfortable for your little one.
We'll go over all the best ones here.
Read next: How to warm bottles on the go (5 easy tips)
10 bottle feeding accessories
Baby feeding must haves include essential bottle feeding accessories from the best baby formula to the most effective bottle sterilizers, and even feeding supplies like a bottle drying rack.
These are the 10 most essential bottle feeding must haves for when you're bottle feeding your little one.
1. Baby formula
Naturally, one of the big formula feeding must haves is the formula itself!
But what's important is finding the best baby formula for you and your baby. When looking specifically at baby formula brands, Similac is the number one baby formula brand used by hospitals. If it's good enough for medical professionals, it's good enough for me!
Two important benefits of Similac baby formula is that it is non-GMO and contains no artificial growth hormones. If you are looking for back-up or alternative formulas to Similac, both Alimentum and Nutramigen are excellent choices.
2. Formula dispenser
Another one of the big bottle feeding essentials is a formula dispenser. These dispensers are particularly useful for feeding your little one on the go. If you travel often, as I do, then they are must haves for formula feeding.
You can buy a pack of formula dispensers that can each be filled with baby formula powder for ease of access and mixing with hot water for when you need to feed on the go.
3. Breast pump
If you're pumping, and you're looking to bottle your milk for later use or taking on the go, then a breast pump needs to be on your baby feeding checklist.
One of the best breast pumps on the market is the Spectra S1. It's portable and rechargeable, but can also be plugged into the wall. This pump is also friendly to parents who want to single or double pump. The technology used to create this fantastic pump has been perfected to mimic the sensation of natural feeding, which makes for a comfortable pumping process.
4. Bottles and nipples
This is another one of the obvious bottle feeding must haves. You can't bottle feed without a bottle. What's important to know, however, is the number of bottles you need and how best to organize them.
As a rule, it's good to have eight bottles to use per day, for each child that you have. I recommend preparing your eight bottles for a whole day at a time. This means you need to have eight bottles in the fridge with boiled water for the day's meals. Then just add powder and heat the bottle in the microwave or bottle warmer. That way you don't have to constantly boil water, scald bottles, and so on. Long story short: you should buy a minimum of eight baby bottles and nipples.
5. Bottle brush
This is one of those bottle feeding must haves that is easy to overlook. There are many ways to clean things, after all, but you'll be grateful for investing into one (or a few) of these specifically designed bottle brushes. They often come in packs of two, which is ideal, and the best bottle brushes are equipped with both bristles and sponges for optimal cleaning.
Lingering bacteria is a danger when you wash anything, but most of all when it comes to baby bottles, so make sure you invest in bottle brushes.
6. Bottle sterilizer
There aren't many bottle feeding accessories more essential than a bottle sterilizer. Keeping your little one safe and healthy is, naturally, your top priority, and one of these is, like I said, essential for that.
This particular bottle sterilizer uses nothing but steam to kill 99.99% of germs and bacteria. No additional chemicals are used, making it entirely safe for use. Like the above breast pump, it's also just compact and lightweight enough to make it easy enough to travel with.
Four bottles can be held and sterilized at once, meaning two morning uses per day gives you a day's worth of freshly sterilized bottles ready to use.
7. Boppy pillow
When shopping for the ideal bobby pillow, you should get yourself one with microbeads because they shape easily. I've used the Doomoo Giraf boppy pillow for my two babies and LOVE it. It's also Oeko-tex certified and organic cotton (GOTS).
If you don't know what a bobby pillow is, it's a comfortable cushion which clings to your waist while you breast or bottle-feed. It has other uses, too, but this one is vital to helping with bottle feeding.
8. Burp cloths
Not only is a burp cloth one of the big bottle feeding must haves, but it's also an essential purchase for breast feeding and any other kind of feeding. The simple truth is that babies spit up a lot and often.
You need a way to protect your clothes as well as theirs, and for wiping down their mouths and hands. Having something designed specifically to handle that is essential for helping with daily feeding.
9. Bottle warmer
This is one of those essential formula feeding must-haves if you're often out and about and you need to heat up baby formula as you travel.
This particular bottle warmer doubles as a thermos and is perfect for carrying pre-boiled water that you can mix with powder on the go to produce the perfect clean and warm baby formula for your baby to enjoy while you're out together.
10. Bottle drying rack
Given how the rule of thumb is that every baby requires eight bottles per day, that's a lot of cleaning and drying.
To make this easier and more hygienic, get yourself a bottle drying rack that keeps your baby bottles separate from anything and everything else you're washing and drying in your kitchen.
More stuff you'll love