6 best non toxic baby bathtubs
Danish Mom uses affiliate links, which means that if you make a purchase through my links, I may earn an affiliate commission.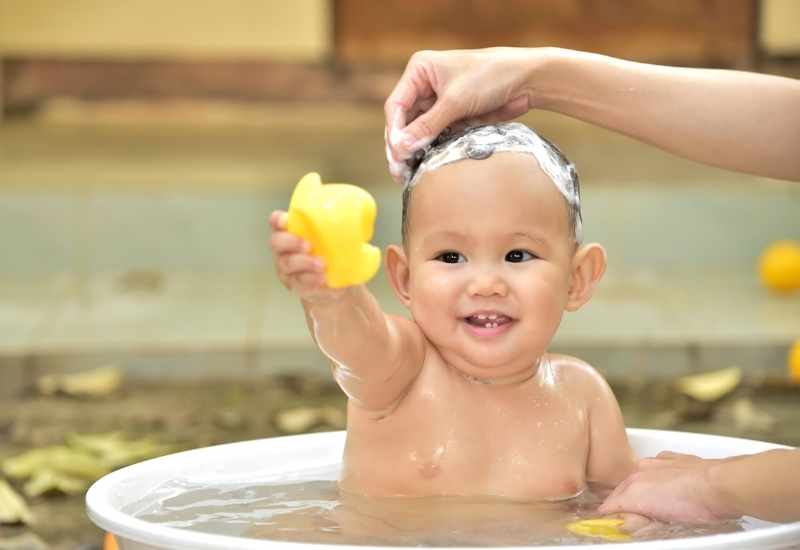 Finding safe and non toxic baby bathtubs without chemicals is finally a reality. Even better, there are many choices! Today you can find non toxic baby tubs in all types – sink inserts, transition tubs and standalone tubs.
I've picked the best ones for you and shared them in the post. You'll also find tips on how to bathe your baby safely and which bathtub features to look for.
Let's dive in, so to speak 🙂
How to bathe your baby safely
Before we find you the best non toxic baby bathtub for your money, let's quickly go over how to give your little one a non toxic baby wash.
The first thing to note is that daily baths are a bad idea. They increase the likelihood or worsening of eczema and remove moisture from your baby's delicate skin.
As for when your newborn should receive their very first bath, the American Academy of Pediatrics (AAP) recommends waiting for 24 hours after birth.
For the first few weeks, sponge baths are the most responsible method of bathing. From there, your baby should receive one-two baths per week until they turn one.
Never leave baby unattended
This is an obvious but vital lesson to learn. And when I say unattended, that doesn't just mean leaving the room. You really shouldn't take your eyes off them for a moment while they're bathing. Ensure that they are being properly supported and attended at all times.
Temperature
The temperature of a baby's bath should be around 100F (38C). You can check the temperature with your hand (or better, your elbow) before placing your baby in the tub. The reason for using your elbow is that our hands become desensitized to temperature over time. Also make sure the room, as well as the water, is comfortably warm.
Stable bathtub
Another obvious point is making sure the non toxic baby tub you're using is strong and stable, with no danger of rocking or tipping over. The non toxic baby bath tubs we'll go over in a moment are what you should be looking at to ensure stability.
Different kinds of baby bathtubs
Something you may not already know is that there are actually three different types of non toxic baby bath tubs for you to choose from, and each one serves a different purpose.
Sink inserts
This type of tub is exactly what it sounds like: a non toxic bathtub that is inserted in your sink, specifically for giving babies under the age of one sponge baths. They are designed to cradle and support your little one while you bathe them.
Transition tubs
Again, as their name suggests, these are baby bathtubs for that transition period between sink bathing and bathing in a standalone tub. Most are designed to be placed inside a full-size tub, much like sink inserts are designed for sinks. Once your baby is able to sit and stand on their own, but is still too small for a standalone tub, a transition tub becomes necessary.
Standalone tubs
A standalone non toxic baby bath is essentially a miniature bathtub for your little one. They look and operate almost identically to a regular bathtub, only smaller. These tubs are safe and secure, while allowing your baby to get used to bathing in a regular tub, which eventually they will be.
Baby bathtub features to look for
When shopping for a non-toxic baby bath, there are specific key features that are vital to consider. All of these are important things that you shouldn't ignore when choosing the best non toxic baby bathtub for you and your baby.
Good support
To guarantee the physical safety of your little one, their bathtub should offer excellent support for their body, with no danger of them getting injured or falling while they're in the tub. You need something that supports their neck and head while they're being bathed.
Hygienic
Baths are where we get clean, so hygiene is the name of the game! A hygienic tub is one made from materials that are easy to keep clean, one that doesn't get stained and hold onto nasty bacteria.
Non-skid surface
This is something you need to check before picking your non toxic baby bathtub. A non-skid surface is important even for adults, so it is of course essential for babies.
Smooth design
This means there should be no sharp edges. And this isn't only for something dramatic or scary like hitting their head, but also just for their comfort. You don't want them gripping or even biting down on something hard and sharp.
Best non toxic bath tubs
Now that we've got an idea of the different types of baby bathtub, as well as how to bathe your baby safely, let's look at the best non toxic baby baths so that you can make an informed decision and pick what's best for you and your little one.
Puj tub
This is an ideal non toxic baby bathtub for use in the sink. It's foldable, meaning it can be put away easily and cleaned effortlessly, but it also fits the shape of your sink and supports your baby exactly as needed! Buy it on Amazon.
Stokke Flexi bath

This is another foldable tub that makes transport and storage easy, but it sacrifices no safety or comfort for that convenience. It has a non-slip base and even comes in a variety of different color options. Buy it on Amazon.
Boon tub

What I love about this tub is its excellent safety measure. The drain plug turns white if the water gets too hot, giving you an easy indicator for what is a safe temperature. Its unique shape also means that it is suitable for newborns while also having space for older babies who can now sit up. Buy it on Amazon.
Primo tub
This is a sturdy, strong, reliable non toxic baby bathtub that can be used from birth right up until your little one is 24 months old, making it really excellent value for money! It's sizeable and even offers storage for non toxic baby bath toys or a non toxic baby bath mat. Buy it on Amazon.
Skip hop baby tub
This whale-shaped tub is wonderfully adaptable to your baby as they grow. It has three modes that match different age brackets: 0-3 months, 3-6 months, and 6+ months. These stages each provide less back and neck support as your baby learns to sit up without help. Wonderfully intuitive! Buy it on Amazon.
Angel care
This soft, supportive, and comfortable non toxic baby bathtub is perfect for newborns. It cradles them at the perfect angle for you to give them the care they need, while also being able to be placed in the bathtub securely. Buy it on Amazon.
More stuff you'll love