10 best imaginative play toys for toddlers to keep it FUN
Danish Mom uses affiliate links, which means that if you make a purchase through my links, I may earn an affiliate commission.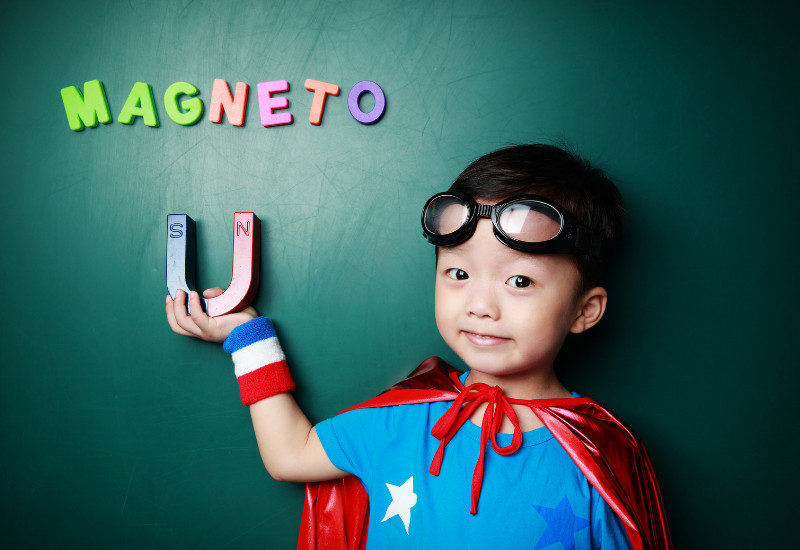 I was half asleep on the couch with a headache when my son came over with his little medical set and toy cell phone.
"Hello. Doctor?"
"Mommy is sick, we need you."
My heart just grew three sizes.
My little toddler is quite engaged with imaginary play. Not only is it fun, it's also an important part of a his (and any child's) development.
Pretend play for toddlers, or dramatic play, is when your child is playing 'as if' something or someone is real. Like superheroes, tea-parties or dress-ups. When they are playing pretend, it builds your children's resilience, ability to focus and the ability to think creatively.
Let's take a look at how we can help support them with the best imaginative play toys for toddlers.
Read next: 12 open-ended toys for toddlers that promote creativity
What age does imaginary play begin?
Typically, imaginary play can begin anywhere between the ages of two and three, as your toddler's curiosity grows and they begin to retain memories of things they have seen and experienced.
Based on what they're shown and interested in, your toddler will start to use their imagination to learn real practical skills, while also learning to have fun building a whole world of imagination inside their mind.
When your toddler is engaging in imaginary play, they're developing social skills, learning to solve problems, and even considering ethics as they decide for themselves what is right and what is wrong.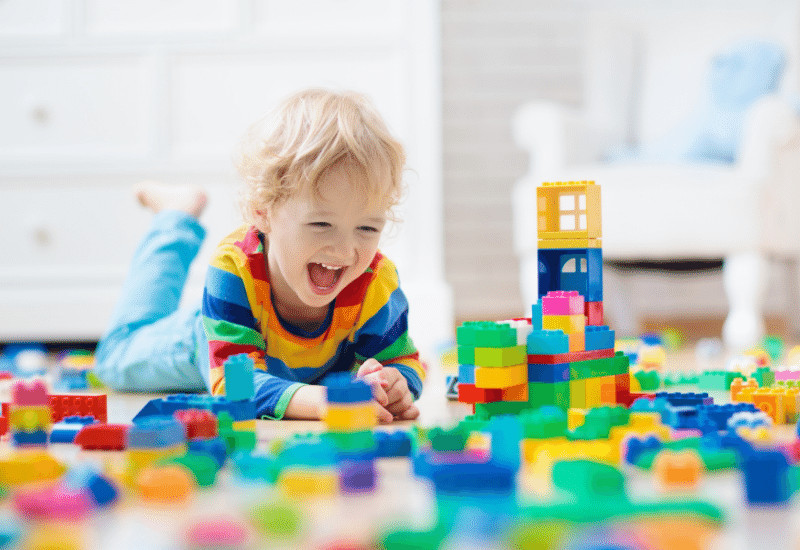 What are imaginative play toys for toddlers?
Types of imaginative play toys for toddlers range from things they can wear — like costumes and uniforms — to things they can build — like building blocks and dough. Whatever fuels their imagination can be used to inspire them a variety of ways.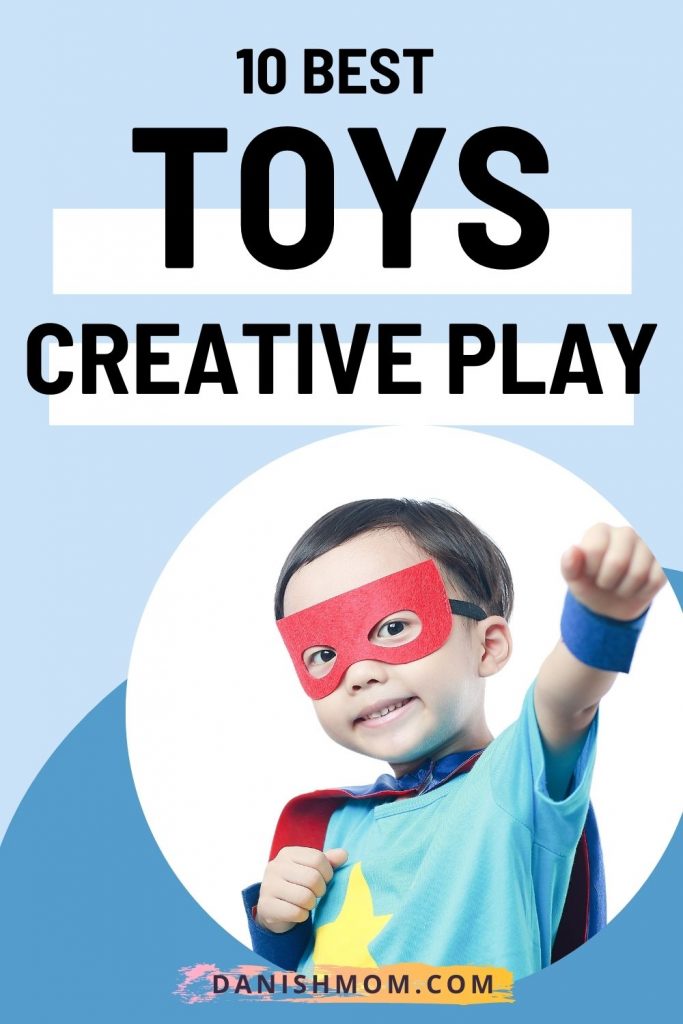 Why do kids need them?
Pretend play, also known as dramatic play and imaginative play toys for toddlers, fuel your kids' imaginative fires. Think of your child, at this stage, like an actor on stage: they're trying out different roles, imagining themselves in different places, talking with new people, and you're giving them the props and costumes to help their imagination and their learning grow.
Not only that, but many imaginative play toys for toddlers actually help your toddler develop and practice new skills. Building blocks, Play-Doh, and play kitchens help your toddler to practice their motor skills, organisational skills, and social skills.
Read next: How to teach your child to play on their own
10 best imaginative play toys for toddler
Whether your toddler is a budding firefighter, chef, architect, or medieval knight, there's a toy for them to incorporate into their pretend play. Here are ten of the best imaginative play toys for toddlers.
My son has had this kitchen since he was 1 year old, and it's still (at 3,5 years) one of his favorite imaginary toys. The fun part is the play food and props. Get a pizza, a bucket of vegetables and pots & pans.
This STEM engineering set comes with endless possibilities for your toddler.
Your toddler can use the 101  different pieces to turn their ideas into reality, whether they want to build a toy car or helicopter, or even a giant robot or a dinosaur.
A set like this is perfect if you want to see your little genius build their motor skills, hand-eye coordination, colour coordination, and more. With these colourful, curved blocks, nuts, and bolts, they can construct whatever they picture in their mind's eye. Or they can simply start building and discover as they go.
Experimentation is key for fuelling your toddler's imagination, and this STEM engineering set does just that.
It's never too early for your child to explore the endless possibilities of what the future has in store. With a set of pretend play costumes, your toddler can embody the role of a doctor, a police officer, or a firefighter.
As they don these colourful costumes, they are learning about responsibility; about offering help and showing kindness; about taking on a role and being trusted.
Suitable for ages three to seven, these pretend play costumes are the ideal imaginative play toys for toddlers who have been inspired by books, TV shows, and the people around them. Now, they can play out the fantasy of being a responsible and skilled adult. They can learn how it feels to be someone who is helpful and smart. Suddenly, they aren't just imagining their role but actually playing it out, thanks to these costumes.
From embodying real-world heroes like doctors and firefighters to the heroes of our imagination: Spider-Man, Iron Man, and Black Panther.
This set of Marvel hero masks and capes help your own little hero realise their dream of flying through the air and fighting crime.
Imaginative play sometimes means building whatever your toddler can imagine. Other times, it means playing out impossible fantasies and imagining themselves as a larger-than-life hero. These fantasies are healthy, emboldening, and courage-boosting. With a set of hero capes and masks, you can help your hero-in-training embody their favourite superhero.
Suitable for ages 3-6, this medical set turns your little learner into a fully qualified doctor, ready to help save anyone who's in need. Complete with a white lab coat and hat, a stethoscope, and a complete set of tools for helping injured patients (and moms with headaches), this medical set will help teach your toddler the importance of helping people and being responsible for others.
This medical set also helps your toddler familiarise themselves with the tools that save lives: bandages, syringes, scalpels, thermometers, and medicine. You're helping to remove the fear of the unknown; instead, instilling a fascination with medicine and an excitement for the skills and capabilities of our medical professionals. With this medical set, you might just inspire your little one to follow a life of science and medicine, inspired by a wish to help everyone around them.
If there's one toy that really embraces the philosophy of open-ended toys for toddlers, it's Play-Doh. The toy that tells kids 'if you can think it, you can make it' is the perfect thing for bringing the thoughts and ideas of your little one's mind into the real world.
Watch your child bring their imagination to life, inspired by everything around them. From animals like fish, birds, and even dinosaurs to objects like houses and boats, they can use their developing hand-eye skills and colour coordination to build whatever their heart desires.
Play-Doh has been around for decades, and is both safe and beloved by parents and children. The tactile nature of Play-Doh; the smell, the bright colours, and the soft textures make for an exciting and encouraging tool for building and expanding their imagination.
With a toy beauty salon, your little toddler can begin to experiment — either alone or with friends — with the possibilities of hair and beauty. This set comes complete with a vanity mirror, hair dryer, straighteners, comb, brush, and more.
With these, your daughter can act out the same beauty routine they've seen you do a hundred times. They can follow and learn from you, all the while feeding their imagination and practicing their hand-eye coordination skills in front of the mirror.
Just like with the doctor's medical set, this scientist kit dispels the mystery of science replacing it with a sense of excitement and fascination for the possibilities of chemistry and biology. Your toddler can learn the magic of science before they've even set foot in a classroom.
All while developing their hand-eye coordination, your toddler is practicing safety with the use of goggles and gloves. They are experimenting with liquids, colours, and shapes. They are discovering the possibilities of change and the magic of the world around them. This is one of the best imaginative play toys for toddlers if you're looking to fuel your little one's curiosity, as well as their imagination.

Music is one of the most exciting and magical things for your toddler to discover and experiment with. A piano mat enables them to explore music to their heart's content, long before they can pick up an instrument of their own.
This piano mat can also be changed to sound, instead, like a violin, trumpet, guitar, and several other instruments. Your toddler can learn to understand, appreciate, and identify eight different instruments as they get to grips with different tones and rhythms. All the while, they are learning healthy hand-eye-foot coordination.
Colourful, soft, safe, and bursting with personality. This tea set teaches your toddler the importance of social skills and polite manners.
Imagining themselves as the responsible host of a fancy tea party, they can explore the avenues of their imagination as they bring friends both real and imaginary into their bubble and come to understand the features of social etiquette.
This tea set also doubles as a colours and shapes set that allows your toddler to learn spacial awareness at the same time as they are developing their social skills.
More on play & toys