10 best non toxic beach toys
Danish Mom uses affiliate links, which means that if you make a purchase through my links, I may earn an affiliate commission.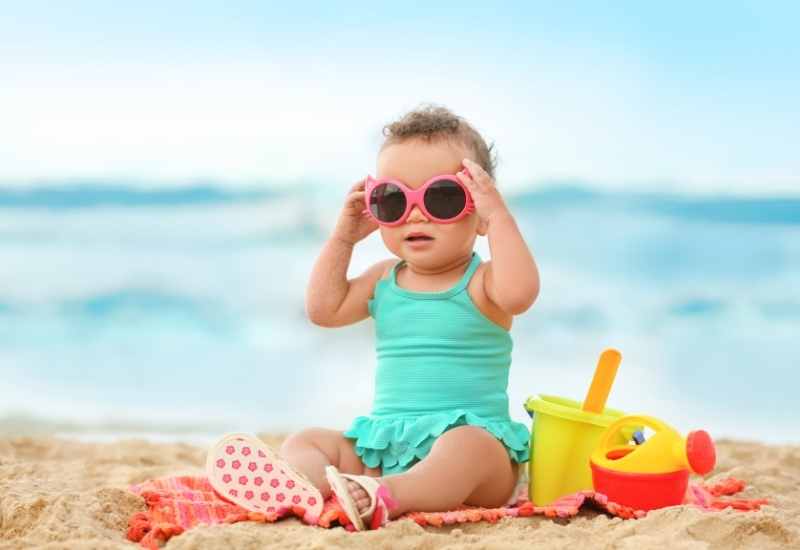 Summer is just around the corner, and what better way to enjoy it than taking the kids to the beach? You might want to check, though, what's in your kids beach toys as many of them contain harmful compounds such as BPAs, PVS and phthalates.
I've made this list of my favorite non toxic beach toys that are free from harmful chemicals, so you and your family can spend more time having fun on the beach and less time researching beach toys.
These are the toys I would buy for my own kids.
Read next: 6 best non toxic baby bathtubs
Why choose non toxic beach toys
While most of us love going to the beach, and no visit to the beach is complete for our little ones without some good beach toys, choosing non toxic beach toys specifically is very important. And that also goes for non toxic bath toys for when you're at home. The reason is simple: most beach and bath toys are made from toxic chemicals that have been proven to be harmful to human health. Phthalates and BPA are found in most plastic toys, so you need to stay clear of these.
Phthalates soften plastics but disrupt hormones
BPA is a hard clear plastic linked to cancers
Environmental impact of beach toys
Making the choice to buy and use non toxic beach toys isn't just good for your family, but also for the planet. Most beach toys are made from plastic, which is one of the most damaging substances when it comes to environmental health. Non plastic beach toys help to eliminate that harm.
Depending on the plastic, it can take up to (and even beyond) 500 years to break down plastics, meaning a discarded beach toy will be causing damage to the environment for longer than you could imagine. Choosing to buy bamboo beach toys or other green beach toys can help save the environment.
The best non toxic beach toys
If you're looking to keep your little one safe (and also do your part in helping the environment), check out some of these non toxic toys for the beach and the bath!
Spielstabil Small Sand Pail Beach Toy

This German-made beach toy is free from PVC, BPA, and phthalates. It's light and handy and comes in a range of different colors that your little one can choose from! It can be used to build sand castles, dig holes, and even collect shells (but make sure to put them back). Buy it on Amazon.
Spielstabil Bucket Mill 3 Piece Set

This is the perfect green toys sand play set that includes a bucket, sand scoop, and spinning wheel. These three parts are all different bright colors and can connect together easily. The bucket is also one of the most durable sand toys on the market. Buy it on Amazon.
Spielstabil Large Sand Sieve Beach Toy
As the product description for this, one of the best non toxic sand toys, proudly states, it is made from "safe, flexible ABS plastic and do not contain BPA, PVC or Phthalates." This sand sieve can be used in a number of creative ways by your clever little one, including as a way to sift out the good, fine sand from the unuseable stuff to build the best sandcastles. Buy it on Amazon.
Spielstabil Large Sand Scoop Beach Toy
Made by the same safe and responsible German designers as the above sand sieve, this sand scoop can offer your little one hours of fun as they dig for treasure, build castles, and maybe bury a parent or two. It's soft, sturdy, safe, and comfortable to use. No toxic chemicals are used to make it so you don't have to worry. Buy it on Amazon.
PlanToys Sea Life Bath Set
These non toxic baby toys are better designed for the bath but could also be used as non toxic beach toys as long as you're careful not to lose them. These beautiful toys, which come in a range of colors, are lovingly designed after recognizable sealife shapes: shell, starfish, turtle, and dolphin. They float, and can even be filled up to squirt water on unassuming parents or siblings. Buy it on Amazon.
PlanToys 5714 Fountain Bowl Set
Here's a very clever collection of non toxic toys for children. Safe and imaginative, they push the curiosity and imagination of your little one as they play and explore. These multicolored bowls can be stacked together pleasingly or arranged carefully to create a makeshift fountain of your baby's own design! One of the best non toxic beach toys out there. Buy it on Amazon.
Green Toys Tide Pool Bath Set
This set of bath toys is environmentally friendly and beautifully designed for your child to enjoy. The seven toys are all carried around in their own bag. Then, when it's playtime, each toy interacts with water differently due to its shape and design. Mentally stimulating and physically satisfying to play with. Buy it on Amazon.
Green Toys Tugboat
Here's a wonderfully designed non toxic bath toy for your baby or toddler: a tugboat that floats and also doubles as a watering can. It is designed with care and detail, and can even be used as a fun way to teach your baby about washing and cleaning. Buy it on Amazon.
Green Toys Ferry Boat with Mini Cars
Made without any BPA, phthalates, PVC, or external coatings, this set of toys is perfect for children who love cars and boats. They interact with each other, offering hours of playtime and physical stimulation. Buy it on Amazon.
Green Toys Stacking Cups
This green toys sand play set can be used at the beach or in the bathtub, with water or with sand. The cups are designed to stack together perfectly, and the mix of colors is very visually satisfying. They teach counting and color combination strategies in a fun and engaging way. Buy it on Amazon.
More stuff you'll love