5 learning towers for toddlers that will encourage bonding
Danish Mom uses affiliate links, which means that if you make a purchase through my links, I may earn an affiliate commission.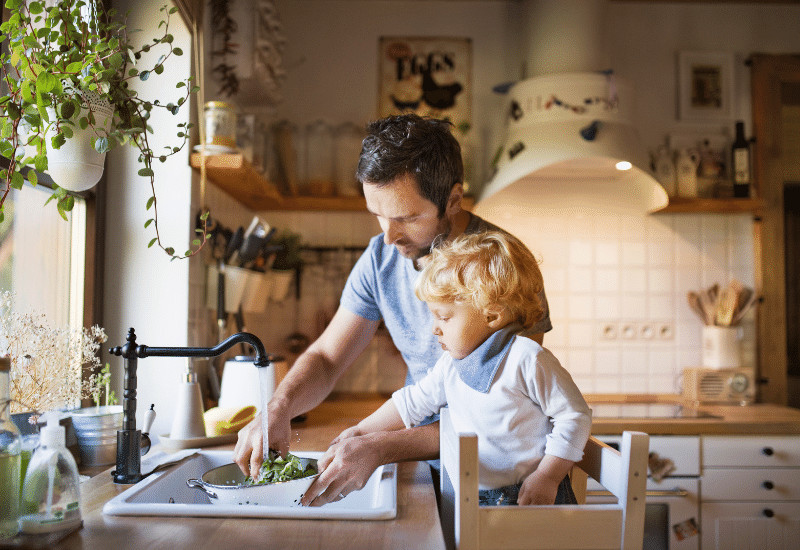 I think most kids enjoy cooking with us because it's the simple thrill of new experiences, learning and bonding. It encourages participation and it's lots of FUN.
But how can your little one help, learn and observe in a safe way?
Which learning towers for toddlers are the best for turning it into a learning and bonding experience? Keep reading, I'll let you know!
What are learning towers for toddlers?
If you've never heard of a learning tower for toddlers, I'll explain why it's such a great investment.
What is a learning tower?
A kids learning tower is a safe, secure furniture. It allows your child to stand higher so they can help you prepare food, see what's happening, and feel more involved in what you're up to, all while being completely safe and secure thanks to the design of the learning tower.
A kids learning tower, also called a kitchen helper, Montessori tower or toddler helper stool, can be used in a variety of situations.
For example, if you're in the kitchen preparing a meal, your toddler can climb up on their own. This encourages confidence and safe exploration.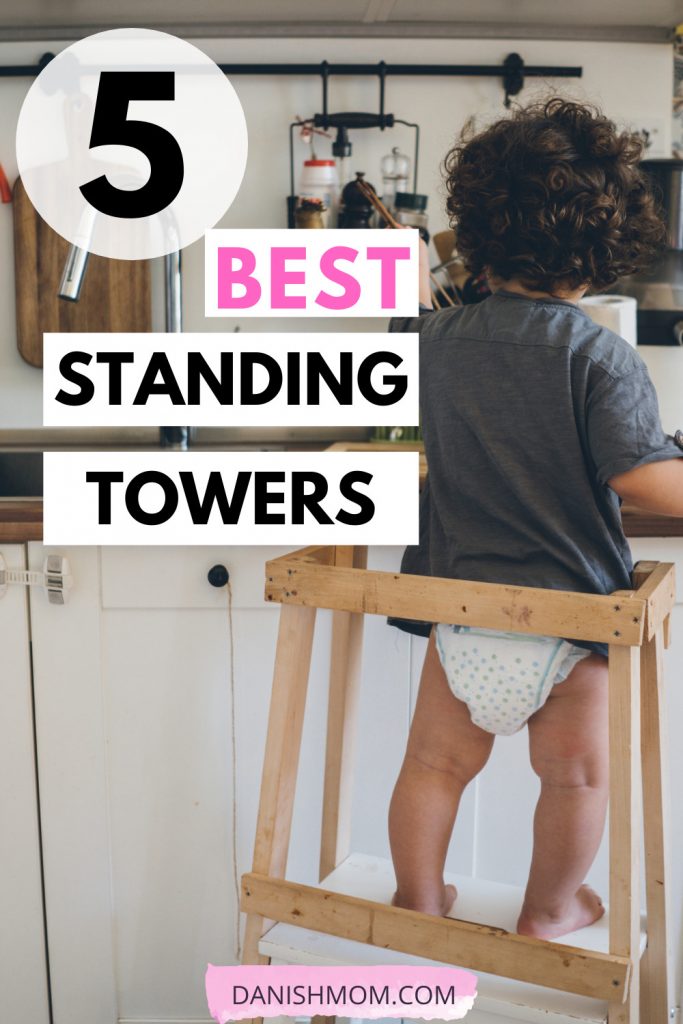 Benefits of a learning tower
Learning towers for toddlers allow our kids to stand on a more equal footing to us.
The safety rail ensures complete safety and security
Learning towers teach toddlers to be independent when brushing their teeth and washing their hands
They provide quality time with you while you do household chores
Toddlers can join in with, observe, and learn from you as you do things in the kitchen and bathroom
They offer more control over where your toddler is and what they're doing while you are busy with household tasks
What is the recommended age?
18 months-2 years:
Use a learning tower to learn important skills like brushing teeth and washing hands
2-3 years:
Use in the kitchen. Allow your toddler to spend time with you as you cook, clean, bake etc.
3-5 years:
Give your child a step stool to provide them enough independence for washing their hands and brushing their teeth.
What to look for in a learning tower
Safety: anti-slip mats, a sturdy design, a guard rail
Flexibility: adjustable height for growing toddlers
Design: an aesthetic you and your child likes
The best ones consider materials, colours, aesthetics, and design practicality. Let's take a look at the five best learning towers for toddlers.
Top 5 toddler standing towers
This learning tower, made by SDADI, is one of the best learning towers on the market. Its sleek black design and solid wood structure blends aesthetics and quality in a very satisfying way.
What makes this the best kitchen learning tower in particular is its diversity when it comes to age. Because the SDADI learning tower is so tall, and has an adjustable opening, your toddler can use it from 18 to 48 months. As your toddler grows, they remain safe and secure within the learning tower.
Considering its affordable price and how long it can be used for, this is the ideal learning tower for toddlers.
While the Wood City learning tower doesn't have an adjustable height, it does have one useful design aspect that sets it apart from other learning towers for toddlers: it can be easily transformed into a two-step stool/side table.
This transformation quality also extends to other areas of its design. The Wood City learning tower has a removable gate, as well as anti-slip mats for complete safety. Being able to transform it into a stool adds far more diversity to the design and practical applications of the learning tower. It can also support 150lbs of weight, meaning that you, as well as your toddler, can use it as a stool.
Simplicity and minimalism is the name of the game with the SUNYAO learning tower. This product gives you everything that a learning tower needs to do, without any of the fuss of extra applications and effects. This is a strong, sturdy, safe learning tower that can help your toddler learn, discover, and feel involved in all household activities.
With the SUNYAO learning tower, you also have the choice of two different colours: a deep, sleek black or a natural bamboo colour. Choose the design that best fits your home's aesthetics.
This is another excellent kids learning tower for mamas looking for flexibility and longevity. Like the SDADI learning tower, the KidzWerks learning tower offers an adjustable platform. This means that you can change the height of the tower as your toddler grows, making for a learning tower that is built to last.
A soft and smooth aesthetic of curves and gentle angles makes for a pleasant appearance, and this particular learning tower also comes in four different colours: wood, white, grey, and navy. Adjustable height and a variety of colours make this the best learning tower in terms of diversity.
This streamlined leaning tower is ideal for older toddlers who are ready to leave the confined of a safety rail behind but aren't yet tall enough to join in with all kitchen and bathroom activities.
The Guidecraft learning tower is, essentially, a safe and sturdy step stool for your toddler to use in order to get to places like the sink and the counter — places which are still out of reach — without the need for feeling trapped and restricted by safety rails.
With no-slip treads, safety is still paramount, and this learning tower for toddlers also comes in a choice of two colours: white and grey.
Learning tower vs step stool
Step stools and learning towers for toddlers are similar in a way: they allow your toddler safe and easy access to places like kitchen counters and sinks. That way they can help you in the kitchen, wash their hands, and have their teeth brushed without difficulty. The difference between them is in their structure.
Learning towers are like high chairs; they provide somewhere for your toddler to be securely placed, with safety rails on all sides, while you show and teach them things like cooking and washing hands. The safety rails are what really separate learning towers from step stools. For this reason, they are ideal for parents with younger toddlers.
Step stools, on the other hand, lack the safety rail feature of learning towers. They are designed to be used quickly and easily. Your toddler has complete access to them and can use them whenever they want to wash their hands or join you in the kitchen. Because they lack a safety rail and a way to be adjusted, they are better suited to older toddlers (around the age of three).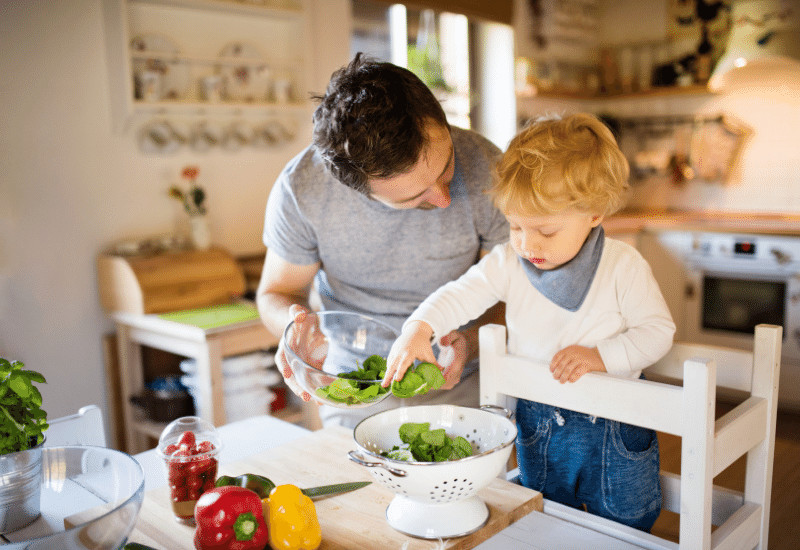 Toddler proof your kitchen
I love having my toddler in the kitchen. It can be a wonderful learning and bonding experience as long as you keep your kitchen toddler proof. Here are 4 ways to do that:
Remove any breakables from places within reach of toddlers
Add locks to lower cabinets
Screw freestanding shelves and cabinets to the wall
Purchase a learning tower for your toddler to stand in safely
I hope my guide has given you all the info you need to make the best decision for you and your curious little explorer!