How to pick the best Montessori Pikler Triangle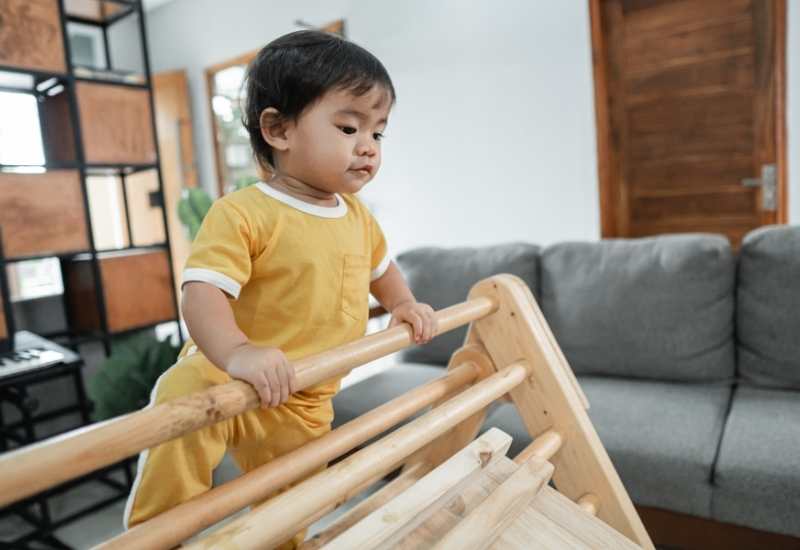 A Montessori Pikler triangle is one of the best toys for kids. It basically teaches your child how to move; how to stand, at first, and then how to balance, crawl, pull and fall. It's one of those toys that grow with our children, so it's easy to see why it's so loved by parents around the world.
Now, a Pikler triangle comes in many forms and qualities. In this post, I'll help you discover the best one for you and your family.
Let's dive in.
This post contains referral links for products I love. Danish Mom earns a small commission at no extra cost to you if you make a purchase through my links. Thank you for your support ♡
What is a Montessori Pikler triangle?
So, first things first. What is a Pikler triangle?
Simply put, it's a climbing triangle toy. A Pikler triangle is a simple wooden structure: a triangular wooden ladder that your little one can do with as they please.
They can crawl underneath it; they can grip on tight as they take their early steps; and they will eventually climb it when they've found the strength and confidence to try.
Like the best Montessori toys, the Pikler triangle is designed to allow and encourage your child to explore their imagination and grow their confidence. It's one of the best toys for 2 year olds.
Is a pikler triangle Montessori?
While it is often attributed to Montessori, and referred to as a Montessori Pikler triangle, it actually has nothing to do with other Montessori climbing toys.
Sometimes dubbed a Montessori triangle climber, a Montessori wooden climber, or even a Pikler Montessori, the Pikler triangle is actually its own thing, designed and created by Dr. Emmi Pikler a century ago.
That said, the Pikler triangle has a lot in common with popular Montessori climbing toys: it is wooden, sturdy, simple, safe, and encourages the development of your child's confidence and imagination.
Read next: 15 best toys for independent play that will keep your kids busy for hours
How to use a Pikler triangle
For you, mama, there really is nothing to do! Simply set up the Pikler triangle in a safe room, on a soft matt or rug, and supervise your little one as they explore and experiment with the Pikler triangle.
As they grow, your child will use the Pikler triangle in different creative ways. They may sleep under it and turn it into a kind of fort or tent. They may use it for balance as they walk. And, soon enough, they'll attempt to climb it. But the vital thing is that they're doing so on their own terms.
The Pikler triangle cannot be lengthened or altered; it simply sits there, a tool for your child's creativity to grow around. As their confidence builds, they will attempt to climb higher and higher, eventually scaling it completely.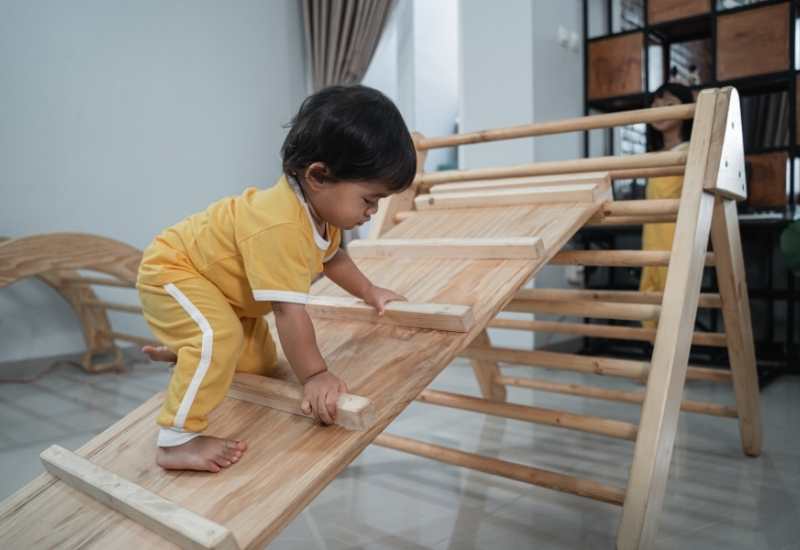 Pikler triangle benefits
The Pikler triangle has numerous benefits for your child's development, both physically and mentally. These Pikler triangle benefits include:
Development of their self confidence
Strengthening of their gross motor skills
Improved balance control
Muscle growth
Exploration of their creative strategies
How to choose the best Pikler triangle
When shopping for the best Pikler Triangle, there are a few things you need to keep in mind. Let's go over what these key factors are.
Reputable company
You need to make sure that the brand of Pikler triangle you choose is a reputable one; a company that has built up a strong name for itself over years of supplying happy parents and children with safe, sturdy, useful toys and educational tools.
Now, most Pikler triangles are actually produced in Europe, which means that you'll need to have it shipped if you're based in the U.S. or other parts of the world.
Quality
Arguably the most vital point to consider. There's nothing in life more important to us than our kids, and so we need to make sure that everything they touch and use is safe, splinter-free, non-toxic, sturdy, and reliable from day one until the end of its use.
Safety features
Pay close attention to the Pikler triangle's safety features. Most importantly, does it have a lock to ensure it will not fall or fold while your child is using it?
Good height
Pikler triangles come in a range of heights, but you really should only consider one that is 80cm or taller. Anything shorter will not stand the test of time as your baby grows and develops. They will quickly outgrow it.
Get one that folds
For the sake of your space and the tidiness of your home, get a Pikler triangle that folds away and can be opened up whenever you and your child want to use it.
Where to buy a Pikler triangle
There's a good range of stores for you to shop at when searching for the best Pikler triangle, and these are the best stores to shop around at in order to find the best deal.
Wiwiurka
If you aren't familiar with Wiwiurka, they promote and sell beautiful wooden toys in the Pikler, Waldorf, and Montessori styles. Buying from them guarantees quality and safety above all else.
Like all their other products, their Montessori Pikler triangles are manufactured with certified wood and protected with non-toxic acrylic wood sealant, which will extend our item's lifespan and will make cleaning it a lot easier!
Wiwiurrka is based in Mexico but have International shipping. Find out more here.
Ebay
The best place to score a good deal on a cheap or used climbing toy, though not always reliable because you don't know the product's condition or history.
Amazon
Everyone's go-to online shop for anything and everything. Often the best place to shop for the cheapest products that are still from reliable brands. I prefer this foldable Pikler triangle from Driddle. It's CPSIA Certified, easy to assemble, splinter-free and 86cm high.
Home for Dreams
Much like Wiwiurka, Home for Dreams prioritises sturdy, aesthetic wooden toys like the Pikler triangle, though their products are also available via Amazon and Ebay. They're based in Latvia, but have International shipping.
Depending on your location, shipping takes up to a week.
Their Montessori Pikler triangles are all handmade, crafted from high-end wood and made only with ecological materials, eco waxes and eco paint. Get it here.
Lily and River
Beautiful wooden toys, furniture, and games. Lily and River is a fantastic choice for aesthetic yet sturdy Montessori climbing toys and Pikler triangles. Plus, they plant a new tree with every order.
Their Pikler triangles are designed and created at their family owned workshop in Arizona (USA). You can personalize it with your little one's name or monogram. Get it here.
Build one yourself
If you have the tools, materials, skills, and knowhow, you can always build your own Pikler triangle for your little one.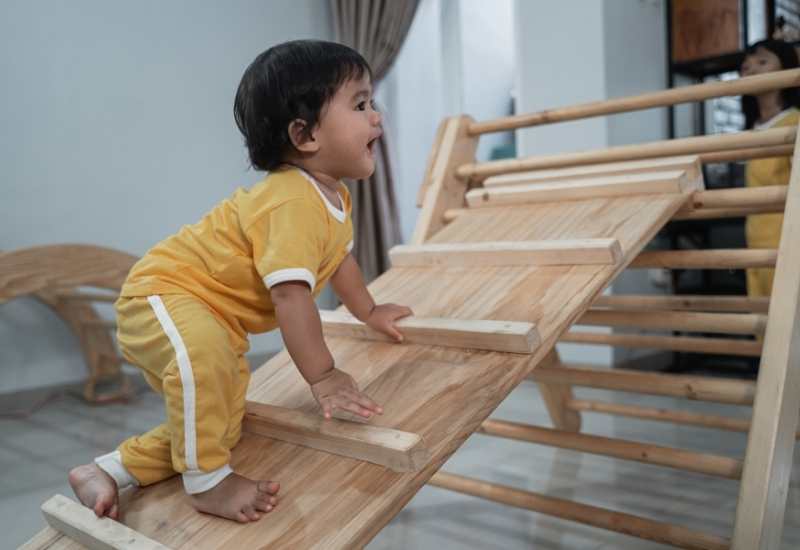 Great Montessori Pikler triangle accessories to get
While the Pikler triangle is an all-inclusive climbing toy, there are also some great accessories you can pick up. These include:
A double-sided ramp
Climbing arch
A rope
A wooden bridge that connects the arch and the triangle
A slide
Are Montessori Pikler triangles safe?
Pikler triangles are safe when used under adult supervision and provided you buy a quality product from a reputable company.
If you read any Pikler Triangle or Montessori climber reviews, you'll see plenty of positive feedback about their safety. Of course, you can make it safer by providing a safe, comfortable space to place it in, and by always being present to encourage and keep an eye on your little one as they explore and play with the Pikler triangle.
I also recommend placing it on a soft surface like a carpet or child play mat. That way, it's softer and more comfortable when your child is playing and if they should fall, which, as you already know, kids do all the time.
What age are Pikler triangles for?
Babies as young as six months old can have a Pikler triangle; this is the ideal age for Pikler triangle use. For this reason, they're the best climbing toys for 1 year olds. They can crawl underneath it and gradually learn to stand and walk using it.
Provided you get one that is at least 80cm tall, your child should continue using it all the way up to age 5, though there's every chance they may outgrow it before then.
Put simply, 6 months – 5 years is the rough age range for a Pikler triangle.