10 best non toxic diapers
Danish Mom uses affiliate links, which means that if you make a purchase through my links, I may earn an affiliate commission.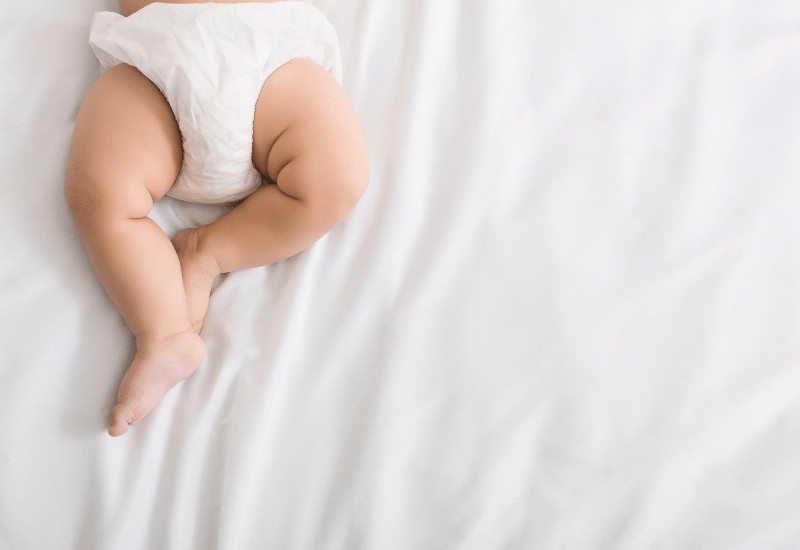 Wondering which chemical free diaper brand is right for your baby? Here are the top choices!
These are the best non toxic diapers on the market right now. They're all free of harmful chemicals and better for the environment.
Let's take a look.
Can disposable diapers pose a risk to my baby?
The short answer to this question is yes. For instance, research shows that exposure to phthalates may increase the risk of allergies, asthma and eczema.
But understanding the hows and whys is also really important!
Babies have sensitive and thinner skin than adults, so they're more exposed to certain toxins. For that reason, many parents try to stay clear of harmful chemicals to avoid potential hormone disruptors touching their baby's skin.
Allergens
Allergens are dangerous to us all, and they range widely in terms of their effects. Some are deadly; others are simply minor irritants. For a newborn baby, however, all allergens should be taken seriously.
From rashes and sore skin to dangerous effects to the nervous system, allergens can pose a real threat to the health of your baby, and many of them can be found in seemingly harmless disposable diapers, making the search for the perfect non toxic diaper brand essential.
Phthalates
Not all chemicals are dangerous, of course, but phthalates certainly can be, especially to newborn babies. This chemical is often banned from being included in certain baby products, but it can still frequently be found in disposable diapers. For that reason, the quest for non-toxic diapers becomes an essential one. Buying chemical free diapers removes the fear of what effects chemicals like phthalates might be having on your newborn.
Which diapers to go for
Now that we've established which chemicals can have a nasty or dangerous effect on your little one's health, let's be clear about what constitutes the best chemical free disposable diapers. If you want no toxic diapers, you need to ensure that the ones you shop for are free of the following chemicals.
Free of phthalates
As I explained above, phthalates can have a dangerous effect on the health of your newborn, so it is imperative that you invest in non toxic diapers that steer clear of this particular chemical.
Just because it is often banned in certain countries doesn't mean you shouldn't always double check that the earth friendly diapers you're looking to buy are also free of phthalates.
Free of artificial fragrance, dyes, and lotions
For a start, artificial fragrances and dyes are not unnecessary when it comes to any baby products, especially diapers. And yet they can be found. For this reason, double-check that the non toxic diapers you choose are free of these ridiculous additions.
Elementally Chlorine Free (ECF) or Totally Chlorine Free (TCF)
You'll see ECF or TCF on the packaging of the best non toxic diapers. This tells you, in simple terms, that there is no chlorine in the diapers you buy. While chlorine certainly has its uses, it's not safe to have in your baby products.
Free of petroleum-derived plastics
This is another red flag for diapers, not only when it comes to the safety of your baby but also the health of the planet. Especially if you're not only looking for non toxic diapers, but also the best biodegradable diapers and the best eco-friendly diapers.
The most eco friendly diapers do not include plastics.
Best non toxic diapers
Now that we've gone over which harmful chemicals can be found in diapers, as well as what chemicals and materials need to be avoided when shopping for safe diapers, let's make things easy with a list of the best non toxic diapers for you, your little one, and the environment.
1. Nest baby diapers
Because these non toxic diapers are made from plant based materials, they are the most natural disposable diapers on the market, making them doubly safe for your family and your planet.
Nest diapers are free from allergens, fragrances, dyes, and anything else that might be potentially harmful to your little one. This brand puts safety and quality of life for your family at the forefront of what they do, and it shows! Get them on Amazon.
2. Andy Pandy Eco-Friendly Bamboo Diapers
These are some of the best bamboo diapers on the shelves. Being made from bamboo, they are also biodegradable disposable diapers and, therefore, incredibly eco friendly diapers.
If they're eco friendly, they're person-friendly, too! You'll find no chlorine, alcohol, preservatives, or phthalates in these brilliant non toxic disposable diapers. Get them on Amazon.
3. Dyper
The Dyper brand is extremely reliable, and these bamboo diapers are a great example of why this is. No chlorine, alcohol, or phthalates are used in the making of these diapers.
They are kind, friendly, and completely safe non toxic diapers. Beyond that, they are also soft and comfortable for your little one to wear. Get them on Amazon.
4. ECO Boom Bamboo Baby Diaper
These are some of the best eco friendly diapers. It's in their name (although combining the words "eco" and "boom" is certainly a bold choice!) The bamboo diapers by Eco Boom are friendly to both the skin and the environment.
They also include natural aloe oils to soothe the skin of your baby while they wear the diaper, thus protecting them from diaper rash and any other discomforts that diapers can cause. Get them on Amazon.
5. Earth + Eden
Earth + Eden is another brand that is well loved and trusted, and for good reason! These diapers are sturdy and protective, while also being incredibly soft and comfortable. Earth + Eden make cruelty free diapers that prioritise kindness to your baby and their skin.
No fragrances or chlorine gets close to these diapers, keeping them safe and friendly. Get them on Amazon.
6. Attitude Disposable Baby Diapers
You'll be very hard pressed to find non toxic diapers that do a better job of steering clear of any and all dangerous chemicals than those made by this specific brand.
They tick every single box. Ideal for sensitive skin; chlorine and dye-free; hypoallergenic; biodegradable; unscented; the list goes on and on! When it comes to safety for your baby's skin, you won't find better. Get them on Amazon.
7. Bamboo nature
Getting the balance between friendliness to your baby's skin and friendliness to nature is quite a challenge, but Bamboo Nature non toxic diapers have risen to that challenge.
They have delivered diapers that fit well, are comfortable, are completely safe when it comes to allergens, and also kind to Mother Earth as well. Get them on Amazon.
8. Eco by Naty Diapers
These non toxic diapers from Naty are proud to be made from nothing toxic and nothing wasteful. No plastics; entirely plant-based; this all means that your baby's skin is in touch only with nature, and it will thank you for that by remaining happy and healthy!
Naty diapers are also proudly Swedish, boldly exclaiming Scandinavian engineering and it shows! Get them on Amazon.
9. Hello Bello
No artificial fragrances. No chlorine. No lotions. Nothing but safe, pure, natural security. These diapers from Hello Bello have been tested to ensure that they are hypoallergenic, as well.
Allergies are incredibly common and sometimes difficult to avoid unless you know where to shop and what to avoid. These non toxic diapers guarantee that delicate skin will be at home in them. Get them on Amazon.
10. Babyganics
Beyond just being non toxic diapers, these Babyganics diapers are also incredibly absorbent and comfortable. These organic diapers are free from all the nasty chemicals you should be avoiding, including chlorine and latex. Get them on Amazon.
More stuff you'll love