9 things to bring in your minimalist diaper bag
Danish Mom uses affiliate links, which means that if you make a purchase through my links, I may earn an affiliate commission.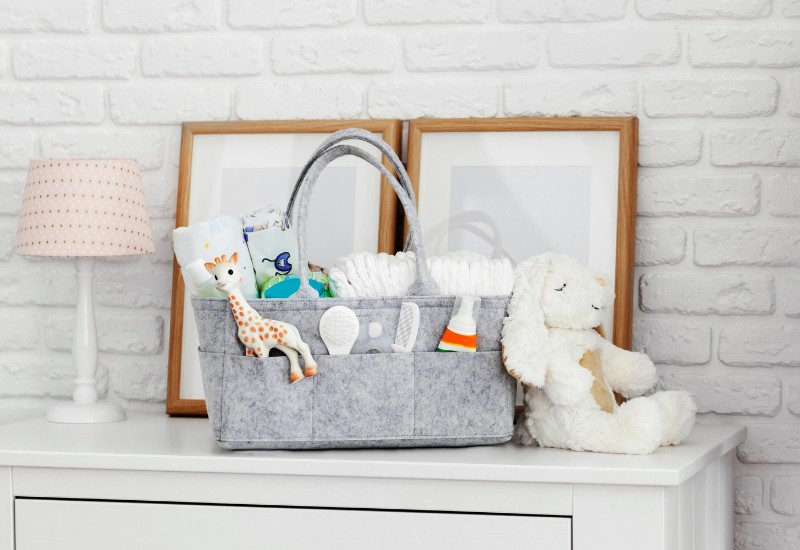 You've got plenty to carry, so don't stuff more into your minimalist diaper bag than you need. Here are the essentials.
Once you've found the right diaper bag, it's important to not overpack it. I have made a list with the most indispensable items, so that your baby can manage one day on the go.
These are the nine things I carry in our diaper bag.
The best minimalist diaper bag
As a minimalist mom, I always look for simplicity and ease of use. For our first son, I got a large diaper bag with a changing station, which seemed super practical. Which it was, for sure. BUT I also found out that it was bulky and didn't really fit underneath my pram.
So, I started using the Fjallraven Kanken Mini Classic Backpack.
Funny thing is – it isn't a diaper bag at all, it's just a regular kid's bag! But a lot of the best things can be multipurpose, or simply function better as something else altogether. This is certainly true for what I consider the best minimalist diaper bag on the market.
Using a backpack instead of diaper bag may seem odd at first but it makes so much sense when you consider that the Fjallraven Kanken is both super cute and practical, it comes in many different colors, and your kid can also use it as a school bag later on, when they're all grown up.
Fjallraven Kanken backpacks are crazy popular as school bags, so getting one as a minimalist diaper bag first, before repurposing it as your kid's school bag, just means you're saving money, reusing a good product, and even thinking about the environment. We should all be shopping sustainably, after all!
This freshly picked minimal diaper bag (or should I say minimalist diaper backpack!) kills two birds with one stone, while also doing the job that all the best minimalist diaper bags do. Sturdy, stylish, cute, and practical; it ticks every box in mom's arsenal.
Now, let's look at what essentials you'll need on your minimalist diaper bag list.
1. Diapers
Every minimalist diaper bag list needs diapers. But how many?
Depending on how long you're going to be out of the house for, 5-7 diapers is a pretty safe bet. And the Fjallraven Kanken Mini Classic Backpack is an ideal size for that many diapers.
This is a general rule of thumb and not an exact science. You might find that you don't need this many diapers in your minimalist diaper bag. Or maybe the opposite is true and seven is a conservative amount. You know your baby and their habits, but most moms find that five-to-seven diapers is an ideal amount.
Read next: 10 best non toxic diapers
2. Non toxic baby wipes
Alongside a suitable number of diapers, non toxic baby wipes are an essential part of your minimalist diaper bag list. Baby wipes are multifunctional. Typically, they're used to clean up your baby during changing, before putting on a fresh diaper.
Read next: 10 best non toxic baby wipes
However, they're also perfect for cleaning their mouths and hands after they've eaten. If you're feeding your little one on the go, you'll find yourself using non toxic baby wipes to clean their face, hands, and possibly a few other areas (depending on how old and how much of a messy eater they are!)
These plant-based baby wipes are hypoallergenic, biodegradable, and 99% water (mixed with aloe vera and chamomile) making for something very safe for your little one.
3. Diaper and burp cloths
Burp clothes are as essential to your diaper bag as baby wipes are. First and foremost you'll need them when changing the diaper. Your baby is also going to spit up often, so make sure to pack one or two muslin burp clothes to throw over your shoulder for when you need to burp them after they've been fed.
This is to not only protect their clothes, but yours as well. Being a new mom is as much about being kind to yourself as it is being kind to your little one. Every bit of mess they make is going to get on you, so pack a few burp cloths to make sure it all gets on them instead!
4. Disposable diaper bags
Not to be confused with a minimalist diaper bag, disposable diaper bags are like doggy bags: thin plastic bags that are used to safely dispose of dirty diapers after you're done changing your baby.
Simple math will tell you that you need as many disposable diaper bags as you have diapers to put them in. Luckily, these Munchkin Arm and Hammer diaper bags come as a refillable roll, like rolls of garbage bags, so just make sure your own roll has at least seven diaper bags left on it and you'll be good to go!
5. Diaper rash cream
It's not enough to treat your baby's bottom with baby wipes while you change them. You also need to make sure you have diaper rash cream on hand. I'm sure you already know this but diaper rash is a nasty thing that'll happen unless you treat your baby's bottom with care.
The problem is that diaper rash cream is easy to forget on your minimalist diaper bag list, amongst the bigger items like diapers and burp cloths. So be vigilant and take a minute before heading out to make sure you have some in your diaper bag.
This particular diaper rash cream is, like the baby wipes, vegan, gluten free, and dairy free, making is safe for any baby's skin.
6. Sanitizer
Just like diaper rash cream, sanitizer is another item that's easy to miss off your minimalist diaper bag list as you're packing away the bigger items. But dealing with a newborn means dealing with poop, and that means having sanitizer to hand is very important!
When you're out and your baby needs changing, you won't necessarily have soap and water nearby, so make sure you have some sanitizer that includes moisturizer and vitamin E.
7. Toys
Toys are perfect for distracting your baby while you change their diaper. Bring one that they love playing with; one that you know will completely hold their attention for a few minutes – like a teether. But also make sure it's one that can be cleaned when you go home (it's very likely that your little one will want to toss their toy to the ground at some point).
8. Pacifier
Just like their favorite toy, your baby's pacifier is a must-bring in your diaper bag. If they start to get upset or feel overwhelmed while they're out, having their pacifier to hand is essential for calming them down and even soothing them to sleep.
I use MAM pacifiers that glow in the dark. They're brilliant in the night when your baby wakes up and misses his pacifier – you'll actually be able to see it (and he will, too!)
9. Change of clothes
Just like a change of diapers, your baby will also need at least one change of clothes. Baby mess, whether that be from them or their food, can get anywhere and everywhere, so you'll need to bring a change of clothes in your diaper bag. This should include, at least, a onesie, some trousers, a fresh pair of socks, and a clean bib.
More stuff you'll love