The ultimate minimalist baby registry
Danish Mom uses affiliate links, which means that if you make a purchase through my links, I may earn an affiliate commission.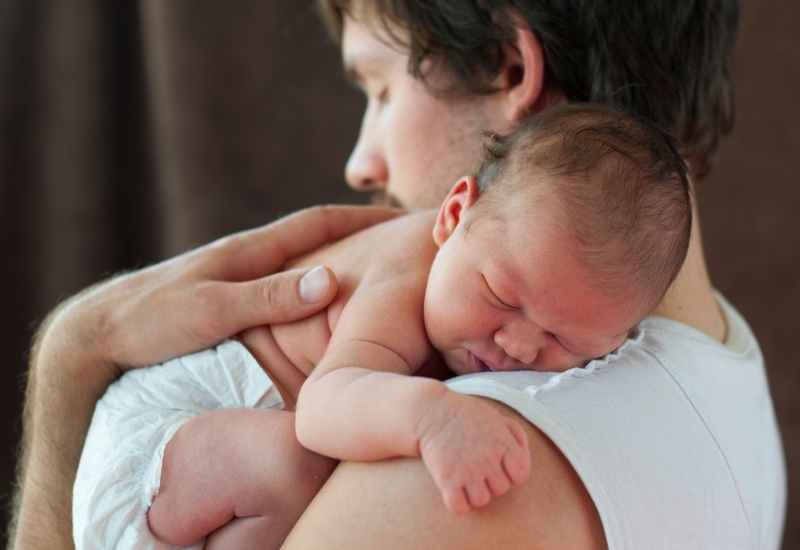 The best minimalist baby registry is a simple list of baby items that serve multiple purposes, grow with your baby, and are beautiful.
Every family is different, though. So, while I think a baby nest is indispensable, you might find it unnecessary. In general, I recommend registering for the absolute necessities and keeping it simple. You can get the rest when the baby comes and you know what you need.
Read next: Minimalism for moms – how to make mom life easier
What should you put on your minimalist baby registry?
A minimalist baby registry is your chance to get all the minimalist baby gear and minimalist baby items that are essential for you and your little one, especially as you start out on your journey as a new parent. You need to focus on getting the bare minimum baby essentials checked off on your minimalist baby checklist.
These minimalist newborn essentials include items for sleep, such as a crib, a baby monitor, pacifiers, and a blanket. Also consider a minimalist baby wardrobe, including a onesie, socks, and pyjamas. Your minimalist baby list should set you up right out of the gate, providing you with all the baby essentials minimalist moms need.
Where to register for a minimalist baby registry
This all depends on where in the world you are, plus a little bit of personal preference. If you're in the US, Target is a great call because of its variety of minimalist baby clothes. Amazon works well for pretty much anyone; its low prices mean you'll probably get more of your minimalist baby registry checklist filled out. IKEA is also ideal for minimalist baby essentials because minimalism is part of IKEA's brand.
Read next: 20 best baby products from IKEA
Sleep
A big part of your minimalist baby essentials checklist will be things for sleeping. There are so many things on this list that you and your newborn little one cannot be without.
Crib
The Babyletto Hudson 3-in-1 Convertible Crib is a fantastic option thanks to its chic and minimalist design, its range of colors — all of which are soothing and easy on the eyes, and even its eco benefits of contributing to cleaner indoor air! Buy it on Amazon.
Baby nest
The Mamibaby Baby Lounger Baby Nest is soft, breathable, portable, adjustable, pretty much everything a new mom and her newborn need it to be! If you're looking to co-sleep or have it in the crib, it works perfectly. Buy it on Amazon.
Bedside sleeper
Bedside sleepers are fantastic for newborns, and a definite item to consider for your minimalist baby registry. You and your baby will both sleep so much sounder with one of these. Buy it on Amazon.
Baby monitor
No new mom can be without a baby monitor, and the ANMEATE Video Baby Monitor with Digital Camera is a great option. For a little extra, however, you could also invest in a Nanit or Owlet baby breathing monitor, which provides extra smart security as they monitor your baby's heart and breathing in real time. Buy it on Amazon.
Read next: Nanit vs Owlet: Which Baby Breathing Monitor is better?
Pacifiers
Pacifiers are both cheap and essential, making them a great option for any minimalist baby registry. This particular set glows in the dark, making it easy for you and your baby to see and find them in the crib. Buy it on Amazon.
Baby comforter
As its name suggests, this Baby Goose comforter is made with goose down, making it both as soft and as light as can be. Perfect for a newborn who needs exactly that: soft and light comfort. Buy it on Amazon.
Blanket
Baby blankets provide a unique option when it comes to minimalist baby registry gifts, because they can be crocheted by hand, making for an intimate and one-of-a-kind gift for your newborn.
Pee pads for the bed and pram
Pee pads are an obvious necessity for newborn babies. And having them be reusable is essential for a minimalist baby registry. Buy it on Amazon.
Gear
Many of your essential baby items can be filed under "gear", which mostly includes items for heading out into the wild world with your baby in tow.
Baby carrier
This LÍLLÉ baby baby carrier can support babies who weigh between 7 and 45 pounds, and it also comes in a satisfyingly wide range of colours and styles. Buy it on Amazon.
Pram/stroller
Another baby registry essential! And this particular convertible pram is an all-terrain-vehicle, allowing you the freedom to take your baby anywhere. Buy it on Amazon.
Baby car seat
Cybex car seats are award-winners that have been proven best-in-test, guaranteeing you the highest possible safety level for your little one. Buy it on Amazon.
Diaper bag
If you get yourself a minimalist diaper bag like the Fjallraven Kanken mini, it will double as a backpack for when your baby is all grown up! Buy it on Amazon.
Travel crib
Travel cribs fold away into something wonderfully portable, allowing us the freedom to take our babies on the road wherever we go! Buy it on Amazon.
Feeding
Feeding is so much more than the food itself. Some of the big baby registry essentials will help you with feeding. You'll want to fill up your minimalist baby registry with feeding essentials.
Hands free bra
Hands-free pumping bras are a miracle, honestly. They provide so much freedom for busy moms, while also having the added benefit of being comfortable! Buy it on Amazon.
Nursing breast pads
These particular breast pads are purposely designed to mimic the softness and smoothness of your baby's own skin. Buy it on Amazon.
Boppy pillow
Also known as infant support pillows, these are great for creating a comfortable mealtime routine for your baby.
Bottles
Every baby needs a few bottles, and Comotomo makes some of the most safe and sturdy bottles money can buy! Buy it on Amazon.
Read next: 10 best bottle warmers for Comotomo
High chair
I love our minimalist Nomi chair because it grows with your child. The Stokke chair or Trip Trap chair which comes in all kinds of colors are also great! Buy it on Amazon.
Feeding bib
These feeding bibs come in a range of colors, don't chafe, and are fast-drying to boot! Buy it on Amazon.
Burp cloths
These muslin burp cloths are perfect for diaper changing, burping, and feeding. Buy it on Amazon.
Diapering
Newborns spend a lot of time sleeping, feeding, and pooping, so make sure your minimalist baby registry checklist includes a few essential diapering items.
Changing table dresser
A changing table dresser is one thing that often gets overlooked! Make sure to get one with a dresser for the baby's clothes as well. Buy it on Amazon.
Changing pad
This Genius changing pad is comfortable to double up as a play mat, making for the ideal minimalist baby gift. Buy it on Amazon.
Diapers
Every baby needs diapers, but a minimalist baby needs bamboo diapers! Buy them on Amazon.
Read next: 10 best non toxic diapers
Foldable bath tub
A foldable bath tub is both economic and ergonomic! Can be used for both traveling and while at home. Buy it on Amazon.
Thermometer
This digital medical thermometer is great for every household since it can be used by you and the rest of your family, too. Buy it on Amazon.
Nail scissors
This is another item that many new parents overlook! Safety scissors for cutting tiny finger and toenails are a must-have. Buy it on Amazon.
Diaper rash cream
This particular diaper rash cream is vegan, cruelty-free, gluten-free, and dye-free, meaning it is the safest possible cream you can get for your little one. Buy it on Amazon.

Clothes
Minimalist baby clothes are, of course, another vital part of any minimalist newborn baby registry. Your little one will outgrow their clothes quickly and often, so get a headstart by registering for the best clothes for your newborn.
Read next: 12 minimalist Danish kidswear brands you should know
Wrap onesie
These kimono-style onesies come in a pack of three and a nice range of colors options, too! Buy them on Amazon.
Soft pants
Pairing perfectly with the kimono onesies, these soft pants come in a three-pack and you have a nice range of colors to choose from. Buy them on Amazon.
Socks
Cotton and nylon socks that actually stay on are exactly what you need! Buy them on Amazon.

Hat
Modal baby hats are made from the softest and most comfortable materials, and they're pretty stylish to boot! You can also go for a knitted flap hat if it's winter. Buy it on Amazon.
Baby pyjamas
These baby pyjamas come in a huge selection of color options, and they are incredibly soft and comfortable for your newborn. Buy them on Amazon.
More stuff you'll love: