20 best baby products from IKEA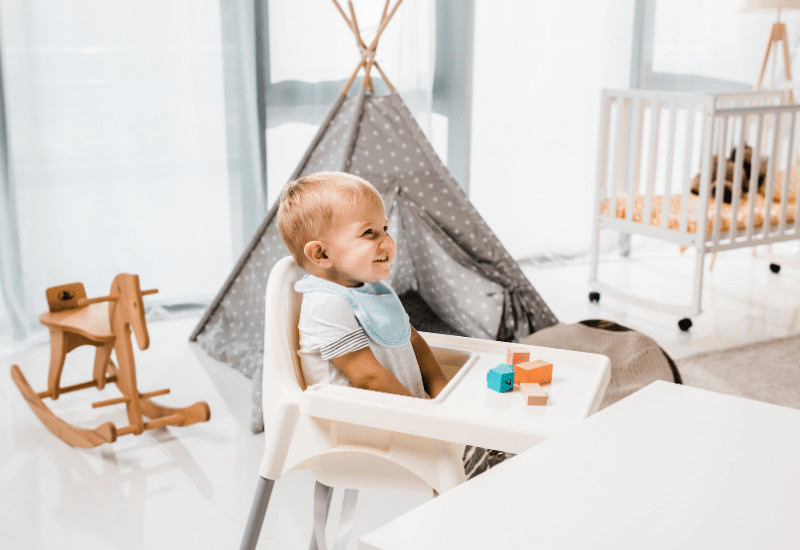 When I first became a mom, I didn't know which products or equipment to buy. The tons of advice and many options completely overwhelmed me.
But then our friends came for dinner one evening with their 10 month old baby. And in a few seconds they set up their portable high chair.
"WHERE did you get that?" I asked.
"IKEA," my friend said. "They have so many great baby products."
A quick trip to IKEA later, and I could confirm that, yes. IKEA has a lot of stuff for babies and best if all: it's simple, affordable and the kids love it.
In this post, I've listed some of my favorite IKEA baby products. You'd be amazed at what you can find!
Related: Nordic parenting – here's everything you need to know
This post contains referral links for products I love. Danish Mom earns a small commission at no extra cost to you if you make a purchase through my links. Thank you for your support ♡
IKEA baby registry
My IKEA registry baby includes imaginative play toys, high chairs, and more useful, fun items. These are the best IKEA buys for kids that you can pick up right now from Amazon and have delivered to your home.
Read next: The ultimate minimalist baby registry
BABY PRODUCTS
Nursery
This sturdy, easy to assemble, crib is one of the best IKEA products. Affordable but strong and reliable; the crib glows with a pure, calming white that soothes the room and your baby. It also has an adjustable base with two levels, and a removable side for when your little one has grown a bit and no longer needs to be safely kept behind bars.
The adjustable height and sides make this a crib that changes with your child, making for a very savvy choice. You won't have to swap it out for a bed the second they start to walk. Buy now.
This cute sky lamb is the perfect accessory to you baby nursery. It casts a soft light that's ideal around bedtime or early mornings for diaper change. Buy now.
IKEA offers a huge range of soft toys for children. This selection includes soft, squishy, cuddly animals like dogs, pandas, and iconic teddy-bears of different shapes and sizes. From safari animals to farmyard animals, IKEA provides a huge selection of soft toys. Let your baby explore and choose a favourite (or two). Buy now.
BEST BABY PRODUCTS
Feeding
This white and silver high chair ticks every box that a new and responsible parent wants ticked. It's perfectly priced, made of the sturdiest materials (but is also surprisingly lightweight) and includes a safety belt. Disassembly for easy transportation is also quick and easy, just like all the best IKEA products are. Buy now.
These little IKEA tumbler mugs are just adorable. This set comes in a selection of vibrant, almost neon colours from every step along the rainbow. They weigh next to nothing, are easy to stack up and clean, and the range of colours allow your little one to explore and pick their favourite colors. Buy now.
A perfect match for the Kalas mugs is a set of Kalas bowls, one for every color of the rainbow. These bowls are strong but lightweight; perfect for a baby to use. And the bright selection of vibrant colors gives your little one the choice to pick a different mug every day, depending on their mood and developing tastes. Buy now.
What separates this bib from almost every other bib on the market is the fact that it wraps around your little one like a gown, and even has sleeves. Easy to slip on and off, this bib protects your baby's skin and clothes from any and all food-related mishaps. It goes great with the IKEA high chair. Buy now.
An IKEA step stool like this is perfect for involving your little one in household activities like brushing their teeth, cooking, and washing up. This step stool is lightweight, sturdy, and slip resistant. Although step stools are ideal for older toddlers, this is great for sitting. Buy now.
BEST FROM IKEA
Toys
This is one of the great IKEA baby toys! With this, your baby can practice and develop their hand-eye coordination and fine motor skills. The pegs and wood stand display a pleasing blend of colours, providing your little one with a toy that's as satisfying to look at as it is to whack.
As a plus, what makes this one of the best IKEA buys for kids is that it's made from sustainable sources such as recycled wood. Buy now.
This is another one of the best IKEA products for kids: one that develops their hand-eye coordination, motor skills, and basic mathematics.
Use this abacus to teach your little learning basic counting and addition, and allow them to explore pattern-making and colour coordination. It's an endlessly fun toy and one of the best IKEA products for its versatility and longevity. Buy now.
Despite how elegantly simply it is on the surface, an IKEA train set like this one teaches your baby hand-eye coordination skills, the ability to judge speed and distance, fine motor and precision skills, and more.
They can see how assembly works, how magnets work, and even colour coordination. It's a satisfying and dynamic toy. Buy now.
A fantastic educational toy that encourages imaginative play while also teaching your little one simple organisational skills and spatial awareness.
This IKEA play kitchen helps to teach your baby and toddler the names and functions of every part of the kitchen: sink, overtop, cupboard, shelf, even microwave. Imaginative play really comes to life with a multifunctional toy like this one. Buy now.
Most imaginative play cooking sets tend to be rather cheap and vibrantly coloured. What sets this cookwear apart and makes it one of the best IKEA buys for kids is just how realistic it is.
At a passing glance, these look like real cooking tools that you'd have in your own kitchen. The detail and realism here helps teach your little budding chef how a kitchen works, and brings imaginative play to life in a really tangible way.
This children's table-and-chairs set is perfect if your little one is a budding artist. With this, you can provide them with a comfortable place of their own to focus on their crafts, from drawing and painting to experimenting with Play-Doh and Lego.
A quiet, private space where they can flex their imagination and creative muscles is so important, and this table and chairs set offers them exactly that. Buy now.
BEST BABY PRODUCTS
Bath and potty training
Cute little IKEA bath tub mat with slide protectors underneath for safety. Buy now.
Potty training is just much more fun with this little green potty. Buy now.
BABY PRODUCTS
IKEA baby proofing
Baby proofing is inevitable when your little one starts walking. Use these corner bumpers to avoid accidents. Buy now.
Make sure your little explorer doesn't enter your cabinets with a drawer safety latch. Buy now.
These are a must for your electrical outlets. And you need plenty. Buy now.
More baby stuff: