10 best non toxic bassinets for your baby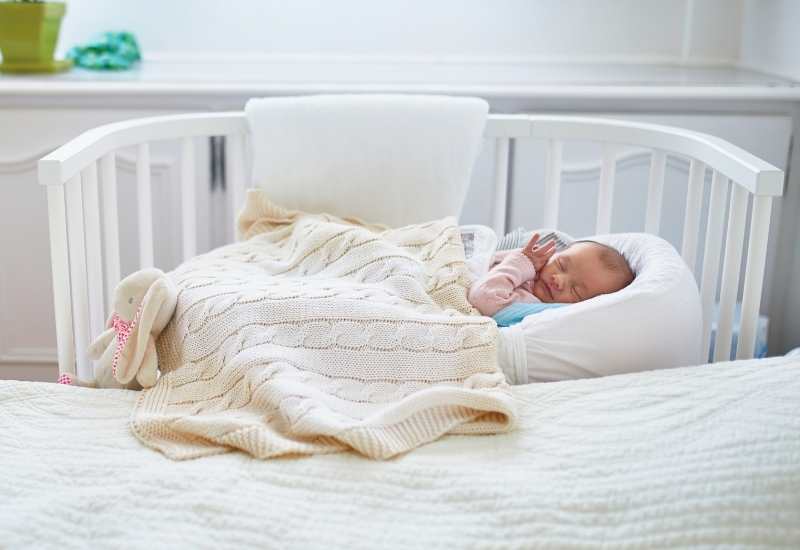 Are you looking for the best non toxic bassinets for you newborn? Here's my complete guide to help you find the best one. Every bassinet on this list is free from harmful chemicals and therefore perfectly safe for your little one.
You'll find several options available that will provide your baby with a safe and comfortable resting environment.
Read next: How to get started with non toxic living
This post contains referral links for products I love. Danish Mom earns a small commission at no extra cost to you if you make a purchase through my links. Thank you for your support ♡
What is the difference between a bassinet and a baby crib?
Before choosing the best non toxic bassinet, you need to know how a bassinet is different from a baby crib.
Whether you're looking at a normal or a non toxic crib, they differ from bassinets by being far larger. They sit in a room and don't move. They have high bars made from wood.
Alternatively, bassinets are far smaller, stand at waist height, have lower sides, and usually have hoods to cover your baby while they sleep.
If you find that your baby hates bassinet, you can instead try a non toxic baby crib instead, to see if they prefer sleeping there instead.
Read next: Help – baby cries when changing diaper
Newborn sleep recommendations
Before we go into detail about which organic bassinet or eco friendly bassinet you should invest in, let's go over some newborn sleep recommendations.
90% of SIDS cases happen in the first six months, and the best way to minimize the chances of SIDS is to have your little one sleep in the same room as you, but not in the same bed.
For exactly this reason, it's important to buy a non toxic bassinet which your baby can sleep in close to your bed. Bassinets are small and easy to move, so you can keep your little angel in their own chemical free bassinet but still within arm's reach while you both sleep.
How to choose the best non toxic bassinet
Non toxic bassinets are the safest and healthiest choice for your baby to sleep in, but choosing the best non toxic bassinet can be a challenge.
Selecting the best bassinet for newborns means having a checklist of features that are essential, and making sure that the bassinet you choose meets all of those criteria. The non toxic bassinets you'll find below will match these important criteria in different ways.
Chemicals to watch out for
One aspect of the checklist I just mentioned is potentially dangerous chemicals. Your natural bassinet should contain no potentially dangerous chemicals. A good chemical free bassinet should clearly inform you that it is free of the following chemicals:
Formaldehyde
TCPP/TDCPP (trisphosphates)
PBDEs (PolyBrominated Ddiphenyl Eethers)
VOCs (Volatile Organic Compounds)
10 best bassinets
Now that we've outlined what chemicals to watch out for, let's go over the ten best non toxic bassinets that will provide your little one with a comfortable and safe night's sleep.
1. Babybjörn Cradle
This Babybjörn Cradle is suitable for newborn babies, making it a great option for a first bassinet. It's transparent fabric allows you to keep a close eye on your little one as they sleep. It can also be gently rocked to lull your baby to sleep as soon as you put them down. Get yours here.
2. Halo bassinet with swivel
One great unique feature of this baby bassinet is its inclusion of pockets that can store essentials while your little one sleeps. The organic bassinet mattress is also waterproof, which is always essential!
This is also the best bassinet for c section, with its lowering bedside wall that makes it easy to tend to your baby from your own bed. Get yours here.
3. Mika Micky Baby Bassinet Bedside Sleeper
This is another contender for best bassinet after c section, thanks to its seven adjustable heights and easy-to-open side panel. This is one of the best non toxic bassinets due to just how adjustable it is.
There are so many ways to make this bassinet work for your needs, including attaching this organic co sleeper to your own bed, making it an ideal non toxic co sleeper bassinet. Get yours here.
4. Snoo Smart Sleeper
As its name suggests, this is a very smart bassinet, with the ability to gently rock and sooth your little one all night long. Safety and comfort go hand-in-hand here.
This bassinet can respond to crying by changing its rocking pattern and white noise output. A very caring bassinet! Get yours here.
5. Guava Lotus travel crib
This organic baby bassinet doubles as a portable travel crib, complete with backpack to carry it around in. It can be set up within fifteen seconds and weights just 3lbs, making even flying with it as stress-free as can be! Get yours here.
6. Munchkin Brica Fold N' Go Travel Bassinet
This is another excellent travel-friendly non toxic bassinet that can be folded away into something light and easy to carry. Take your baby's bassinet wherever you go to make sure they can be comfortable and happy anywhere. Get yours here.
7. Dream On Me Karley Bassinet
This is one of the coolest non toxic bassinets for how many color options it has! It's also one of the roomiest bassinets on the market. If you want your bassinet to work just like a crib, with plenty of space for your baby to stretch out in, this is the bassinet for you. Get yours here.
8. MiClassic bassinet
This is a classic, reliable, versatile, and transparent bassinet that provides safety and comfort for your little one. It can also be very quickly folded away in order to move it from room to room (though it's not portable enough for travel). Get yours here.
9. Moses basket
We often refer to bassinets as moses baskets, but this one takes that term very seriously with its aesthetic design and boat-like shape. It's a beautiful organic bassinet with a waterproof cover, and it's made with vegan leather! Get yours here.
10. Premium Organic Baby Nest by LaLaMe
This is a very unique baby bassinet. In fact, it's less a bassinet and more what its name states: a nest! Made from organic cotton, waterproof, soft, and cozy, this is the perfect place for your baby to sleep snug and happily. Get yours here.
FAQ
Which is the safest bassinet?
Of these non toxic bassinets, the safest is probably the Snoo Smart Sleeper, which guarantees to keep your baby on their back while they sleep, no matter what.
Is the HALO bassinet non-toxic?
The HALO bassinet is BPA-free, and while it is made from polyester it does also offer an organic mattress, making it entirely non-toxic.
What is GREENGUARD certified bassinets?
Any bassinet that has been GREENGUARD certified has been scientifically proven to have low chemical emissions, guaranteeing good health for your little one while they sleep.
More stuff you'll love