5 best non toxic baby swings and bouncers
Danish Mom uses affiliate links, which means that if you make a purchase through my links, I may earn an affiliate commission.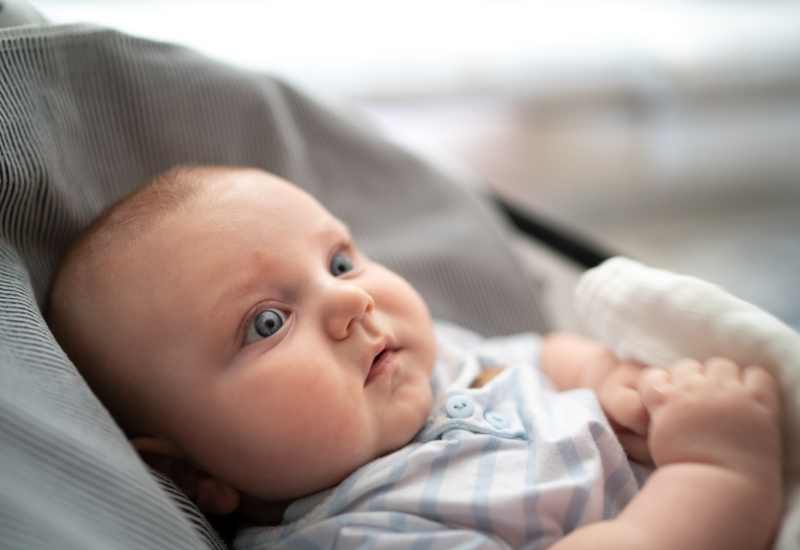 Looking for a non toxic baby swing to soothe your little one? I've made a list of the best ones on the market right now.
I've always used a baby bouncer and a swing for our two boys, and it's such a great way for them to play safely while I could get some work done around the house.
Read more: 8 best non toxic high chairs
When can a baby use a bouncer or swing?
Before looking at the best non toxic baby swing, you need to know when your baby is old enough to actually use a bouncer, and also when they have grown too big for one.
The sweet spot for using a baby bouncer is around three to nine months old. Once your little one hits three months, go ahead and buy a non toxic baby bouncer for them to enjoy! Once they hit nine months, they may be getting too big for it.
This isn't always the case; it depends on the baby! Some will be fine to use their organic baby swing or bouncer until they are a year old, and others are designed to support toddlers up to two years old! Check the product description when shopping around for your non toxic baby swing or bouncer.
What to avoid in a baby swing and bouncer
A baby swing or bouncer should be in a completely safe and secure environment. This means making sure it is on even flooring, not on an elevated surface of any kind. You should also make sure it is nowhere near stairs, ledges, or any other surfaces like tables or countertops. There should be nothing within reach. A nice, open space on a flat, sturdy floor is best.
But picking out the best non toxic baby swing also means avoiding toxic materials. Many toys, games, and pieces of furniture designed for babies can be made using potentially toxic materials, and these must be avoided. This is why it's so important to shop for a natural baby swing or non toxic baby swing. The potentially hazardous materials to look out for are:
Formaldehyde
TCPP/TDCPP (trisphosphates)
PBDEs (PolyBrominated Ddiphenyl Eethers)
VOCs (Volatile Organic Compounds)
Safe non toxic baby swings should make it clear that they are free of these materials and elements.
Best non toxic baby swings
Now that we know what age range is best for using a non toxic baby swing, and what dangers to avoid when buying and setting up a swing or bouncer, let's take a look at the best non toxic baby swings on the market right now.
1. Babybjörn bouncer
BabyBjörn is always a reliable brand that makes great baby products, and this non toxic baby bouncer is no different. Strong and sturdy, it can support your little one until they reach the age of two! Its fabric cover is machine washable, making it a very convenient and hygienic option, and it even has three different height options. This means that it grows with your baby. If they seem to be outgrowing it, but they still love bouncing in it every day, you can alter the height easily. With strong back and head support, this is the safest option for a non battery operated baby swing. Buy it on Amazon.
2. Munchkin baby swing
This is a very smart non toxic baby swing. It offers five different options for motion to keep your baby happy and comfortable. These options can easily be chosen and changed whenever you or your little one want to. Even cooler than this is the fact that it has in-built speakers that connect to your phone with bluetooth, so that you can play your baby's favourite music while they bounce and swing! Despite how hi-tech this swing is, it's very quick and easy to fold away, travel with, and set up again, meaning your little one can swing baby swing wherever you go! Buy it on Amazon.
3. Swurfer kiwi
Here's a baby swing that can be used indoors or outdoors. If you're looking for a swing set with baby swing, this fits the bill pretty well! You can attach it securely to an outdoor swing set and, with its safety harness and blister-free rope, it's the ideal baby swing to take outside for your little one to enjoy in the sunshine on a warm day. Of course, it can also be used inside as well, and that's mostly where it will get used. It comes in three different colors and includes everything that's needed to set it up and get swinging right out of the box! Buy it on Amazon.
4. Stokke steps bouncer

This is an incredibly safe and secure non toxic baby swing. It includes side guards, a sturdy base, a six-point safety harness, all of which gives you the best peace of mind you could possibly ask for. This Stokke steps bouncer also comes with a hook for you to attach your baby's favorite toy. Buy it on Amazon.
5. Bloom coco  go 3-in-1
This is a comfortable, minimalist baby bouncer that can be folded away into nothing at all. Easy to carry with you wherever you go and set back up in a jiffy! It's soft and secure, and can support a baby up to 25 lbs in weight. The softness and warmth offered by this non toxic baby swing is unparalleled. Buy it on Amazon.
More stuff you'll love