10 best pregnancy safe shampoos
Danish Mom uses affiliate links, which means that if you make a purchase through my links, I may earn an affiliate commission.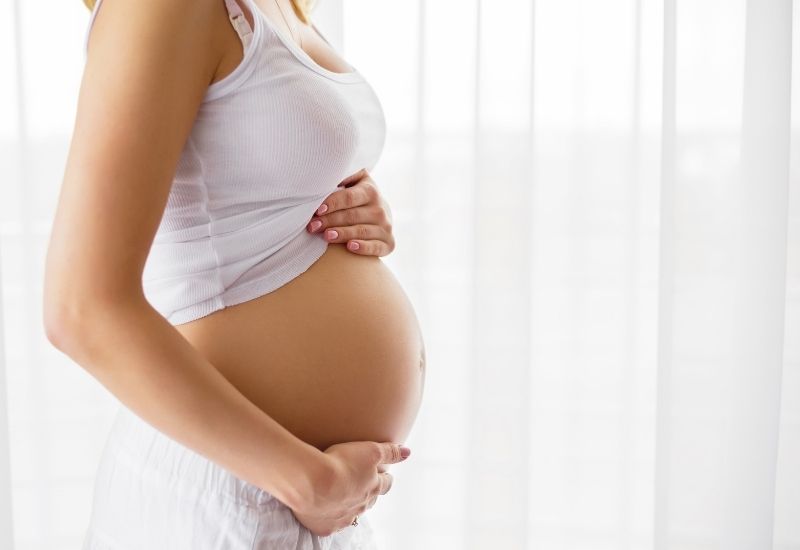 Once you get pregnant, a million things start running through your head. There are so many 'do's and don'ts' and you'll start to wonder – is this healthy or not? Should I eat this or not?
I know how overwhelming it can be. So, let's focus on one thing at the time – pregnancy safe shampoos.
I've put together an easy guide for you, so you'll know what happens to your hair during pregnancy and which shampoos are the best for you and your baby.
Let's take a look.
What happens to your hair during pregnancy?
Before we look at the best pregnancy safe shampoos for you to use during those nine precious months, we need to understand what changes actually occur to our hair while we're pregnant!
Pregnancy leads to both a shift and an increase in hormone production in our bodies. This means that, when we're pregnant, many of us notice certain effects to our hair. I sure did. The most common of these effects include an increase in strength and texture. Your hair may grow faster, and less of it will fall out during showers and brushing.
These are all great side effects: extra shininess and thickness is lovely! Just be aware that, after giving birth, another shift in hormone production will lead to the opposite, a slowing of hair growth and even an increase in hair loss – it will grown back out, though.
Because your hormone production and hair change when you're pregnant, you might want to consider what's in your shampoo. Let's look at what to avoid exactly.
Shampoo chemicals to avoid during pregnancy
Any safe shampoo for pregnancy should specifically avoid some of the most harmful ingredients. Choosing pregnancy safe shampoo also often has the added benefit of being cruelty free shampoos, which is great for everyone!
When shopping for pregnancy safe shampoo brands, pay special attention to the following chemicals. There are all must-avoid chemicals during pregnancy.
Formaldehyde
Formaldehyde has a few dangerous side effects for everyone, but especially for those of us who are pregnant. For mamas-to-be, or those looking to get pregnant, formaldehyde has, according to NIOSH, been proven to increase infertility.
Sodium Lauryl Sulfate
This is a chemical that is often found in everything from soap to shampoo, but is rarely found in the infant versions of those products due to it being unsafe for the skin. SLS can lead to eczema, as well as general redness, soreness, and irritation.
Parabens
Commonly, parabens are used as cosmetic preservatives, but lengthy exposure to shampoos with parabens can lead to issues of weight development in babies once they are born, according to research.
Phthalates
Exposure to products and cosmetics with phthalates can lead to an increased risk of cardiovascular diseases and diabetes, says Harvard Health Publishing. For pregnant women, however, exposure can lead to their baby having issues with the development of motor skills.
10 pregnancy safe shampoos
If you're looking to get pregnant, or are newly pregnant, and you're looking for the best pregnancy shampoo to use in order to best protect yourself and your child, these are the pregnancy safe shampoos you need to be using.
1. OUAI Fine Shampoo
This is perhaps the best shampoo to use during pregnancy, thanks to its lack of the above dangerous chemicals. You won't find any SLS, parabens, or phthalates in this pregnancy shampoo.
You've probably heard of OUAI before: a slightly more up-market brand that is worth the cost. It has a stellar reputation amongst haircare products, and its Fine Shampoo product is among the best shampoo while pregnant, given its use of all-natural ingredients that nourish your hair from its roots to its tips. Buy it on Amazon.
2. Love Beauty and Planet Volume and Bounty Thickening Shampoo
Once again, you will find no sulfates, parabens, or phthalates present in this Love Beauty and Planet shampoo, making it a safe shampoo during pregnancy. Both the shampoo and its conditioner counterpart are proudly vegan and cruelty-free, making them healthier for you, your baby, and the world in general!
You should also find that your hair feels thicker after a few washes; always a bonus! Buy it on Amazon.
3. Christina Moss Naturals Hair Shampoo
One thing we as parents need to be aware of and diligent about is allergies in our little ones. It's common for newborns to require hypoallergenic formulas, foods, and clothing. This Christina Moss shampoo is also hypoallergenic, making it a safe and ideal shampoo while pregnant. If you find that your scalp and skin is particularly sensitive and irritable, this is a great shampoo for you, pregnant or otherwise! Buy it on Amazon.
4. PureNature Moroccan Argan Oil Shampoo
Beyond being free of dangerous chemicals, this PureNature shampoo stands out by being extra supportive of your hair while you're in a more delicate state. By using vitamin E to soften and strengthen your hair, as well as sun protection thanks to its inclusion of antioxidants, PureNature have created a fantastic shampoo for pregnancy. Buy it on Amazon.
5. Maple Holistics' Tea Tree Shampoo
As I mentioned earlier, pregnancy has some neat benefits for your hair, thanks to a change in hormone production. One of those changes is more growth and thickness for your hair. If you're still struggling with dryness, however, this tea tree shampoo from Maple Holistics is a fantastic choice. All potentially harmful chemicals are also entirely absent from this all-natural shampoo, making it one of the best pregnancy safe shampoos. Buy it on Amazon.
6. Pura D'Or Anti-Thinning Biotin Shampoo
I also mentioned earlier how, after pregnancy, once you're in the postpartum stage, you can find that your hair growth slows and your hair may also thin out. Pregnancy safe shampoos like this one are a great option because they continue to be useful long after pregnancy. As your hair thins after giving birth, this Pura D'Or shampoo can help to combat that thinning process. Buy it on Amazon.
7. The Honest Company Shampoo
The Honest Company has a great reputation amongst young mothers thanks to their top-tier baby products. In that same vein, they also sell one of the best pregnancy safe shampoos (and an accompanying conditioner). Being hypoallergenic, it's safe for both you and your baby to use together! Buy it on Amazon.
8. Aveeno Active Naturals Pure Renewal
There is no danger of irritating or aggravating your scalp with this natural shampoo from Aveeno, which also makes it a great option among pregnancy safe shampoos. Being free of sulfates, you can also rest easy when considering its health and safety measures. Buy it on Amazon.
9. SheaMoisture Manuka Honey & Mafura Oil Intensive Hydration Shampoo
This pregnancy safe shampoo comes with a twin conditioner, and together they work wonders on the hair of both mamas who are pregnant and those who have given birth, and are therefore looking for something to rejuvenate and strengthen their hair after all the chemical and hormonal shifts their body has gone through. Buy it on Amazon.
10. Baby Bum Shampoo
This might seem like an odd choice at first since it is branded towards newborn babies, but anything that's good for your future newborn is good for you as a future parent, too! As I mentioned at the start, the harmful chemicals often found in shampoos are absent from baby products, meaning they are also safe, healthy, and ideal as pregnancy shampoos, too! Buy it on Amazon.
More stuff you'll love: