3 best organic nursing pillows
Danish Mom uses affiliate links, which means that if you make a purchase through my links, I may earn an affiliate commission.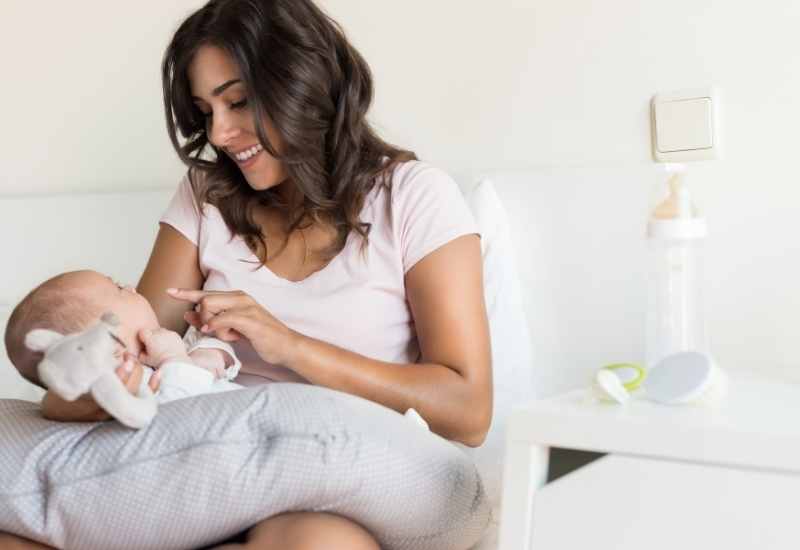 Organic nursing pillows are made with no harmful toxins, which means more comfort and safety for you and your baby.
There's no better feeling than nursing your little one. Just watching them feed, while they look you in the eyes with all the love in the world. Aaw, I miss that feeling now that my youngest has reached toddler stage.
Whether you're breastfeeding or bottle feeding, you'll spend many hours a day nursing, so it's worth investing in a quality non toxic nursing pillow. So, in this post I've gathered the three best organic nursing pillows on the market.
We're going to look at which chemicals to avoid and what to choose instead, so nursing time will be a safe experience for baby & mommy.
Let's take a look.
Read next: 10 bottle feeding must haves that'll make your life easier
Do you need a nursing pillow?
Put simply: yes!
Any good nursing pillow (for example, a Snuggle Me organic breastfeeding pillow) is a simple thing that can make a world of difference for both you and your little one. Feeding your baby will take most of the day in the beginning, so the more comfortable you can make it, the better!
The fact that comfort is heightened for both of you makes it all the more necessary, as purchases go. So here are the best organic nursing pillows for your money.
How to use a nursing pillow
Whether you choose to buy a Snuggle Me nursing pillow, a Blessed Nest nursing pillow, or something else entirely, a nursing pillow is a simple thing to use, but one that makes all the difference in the world. In fact, organic nursing pillows can be incredibly versatile!
You can use a pillow like an organic nursing pillow before even having given birth, as they add a lot of back support during pregnancy. If you or your partner buy a nursing pillow (or you receive one as a baby shower gift) ahead of your little one's arrival, use it as a back pillow to alleviate that inevitable back pain that comes with pregnancy.
Nursing pillows can also be used to bring your baby to the perfect height during breastfeeding, thus eliminating any muscle pain or strain you might feel. Using a blanket (folded a few times) as extra support under the pillow can eliminate that awkward space between you and your little one, bringing them close to you and removing all of that needless strain on your muscles. You want the breastfeeding experience to be as relaxing and comfortable as possible, and this is the best way to do that.
If your baby experienced acid reflux (which is common in newborns), one of these non toxic nursing pillows can relieve the symptoms effectively, by putting your little one in a more supported and upright position. Lying horizontally is the worst thing for the symptoms of acid reflux, after all!
Most importantly, organic nursing pillows provide excellent and safe comfort support during feeding time, provided you choose the best one to suit you and your baby's needs!
What to avoid in a nursing pillow
Because nursing pillows come into frequent contact with your baby's skin (our largest organ), it's important to know which chemicals to avoid when choosing one. Dangerous chemicals are often used to produce nursing pillows, and babies have thinner skin than we do!
These are the chemicals that must be avoided in order to purchase the best organic breastfeeding pillow:
Synthetic fabric
Poly fiber stuffing
Polyurethane foam
Non-organic cotton
Fibre certifications to choose:
The best organic nursing pillows
Now that we know what chemicals need to be avoided when shopping for the best organic nursing pillow, as well as the different ways in which a breastfeeding pillow can be used, let's look at three of the best organic nursing pillows. They all have their benefits, and it's up to you which one suits you and your little one best.
The Nesting Pillow
The Nesting Pillow is an organic nursing pillow with a washable slip cover. This is a nursing pillow made of 100% organic cotton, so you don't need to worry for even a moment about any toxic chemicals having been used to make this completely organic nursing pillow. The name "nest" is perfectly apt as well; its large size and moon shape provide a swaddling, comforting, embracing feel for your little one. They will feel supported and protected by this soft nursing pillow. With an organic nursing pillow like this one, you and your baby will both feel as secure and comfortable as can be. Buy yours on Amazon.
Holy Lamb Organics Organic Cotton & Wool U-Shaped Nursing Pillow
As the name proudly says, this is one of the safest and most reliable organic nursing pillows on the market! Made from a blend of cotton and wool, all organic, this is perfectly safe and comfortable for your little one to enjoy. The curved shape provides a perfect bed that supports your baby exactly as they need, while at the same time providing you with the perfect extra comfort that you need while breastfeeding or bottle feeding. Buy yours on Amazon.
Organic Caboose Nursing Pillow
This is another organic nursing pillow made from 100% organic cotton, eliminating all of your fears about toxic chemicals being used in its production. Unlike the more commonly moon-shaped nursing pillows, this Caboose nursing pillow is in a slightly more traditional pillow shape, which provides more opportunities for finding different positions — whatever is most comfortable and useful for both you and your little one. Beyond feeding, this is a great pillow for propping up your baby and simply sitting together. Buy yours on Amazon.
More stuff you'll love