8 best non toxic baby dolls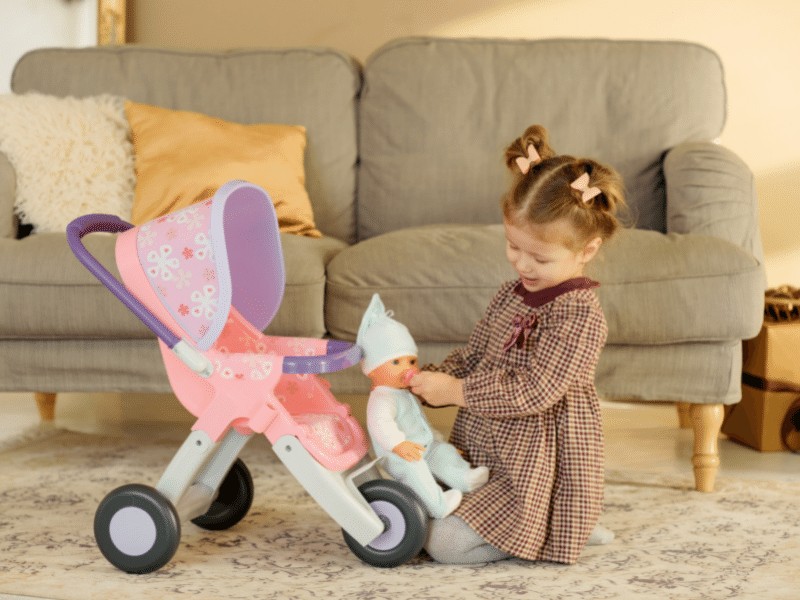 Are you looking for the perfect present for your little one and want to get them something special? Dolls are the perfect gift, especially if they're non-toxic baby dolls.
In this post, I've found the best eco baby dolls. Not only are these high quality, safe toys that both children and their parents can appreciate, but they also offer education benefits such as teaching about diversity and self-care.
So, let's dive into all the knowledge and fun that awaits!
Read next: How to get started with non toxic living
This post contains referral links for products I love. Danish Mom earns a small commission at no extra cost to you if you make a purchase through my links. Thank you for your support ♡
Developmental benefits of playing with dolls
For children of all ages, but especially babies and toddlers, playing with non toxic baby dolls can have enormous and far-reaching developmental benefits.
Put simply, imaginative play using natural baby dolls stimulates the brain of your little one in multiple beneficial ways, including their ability to picture stories and scenarios, their powers of empathy, and even their dexterity.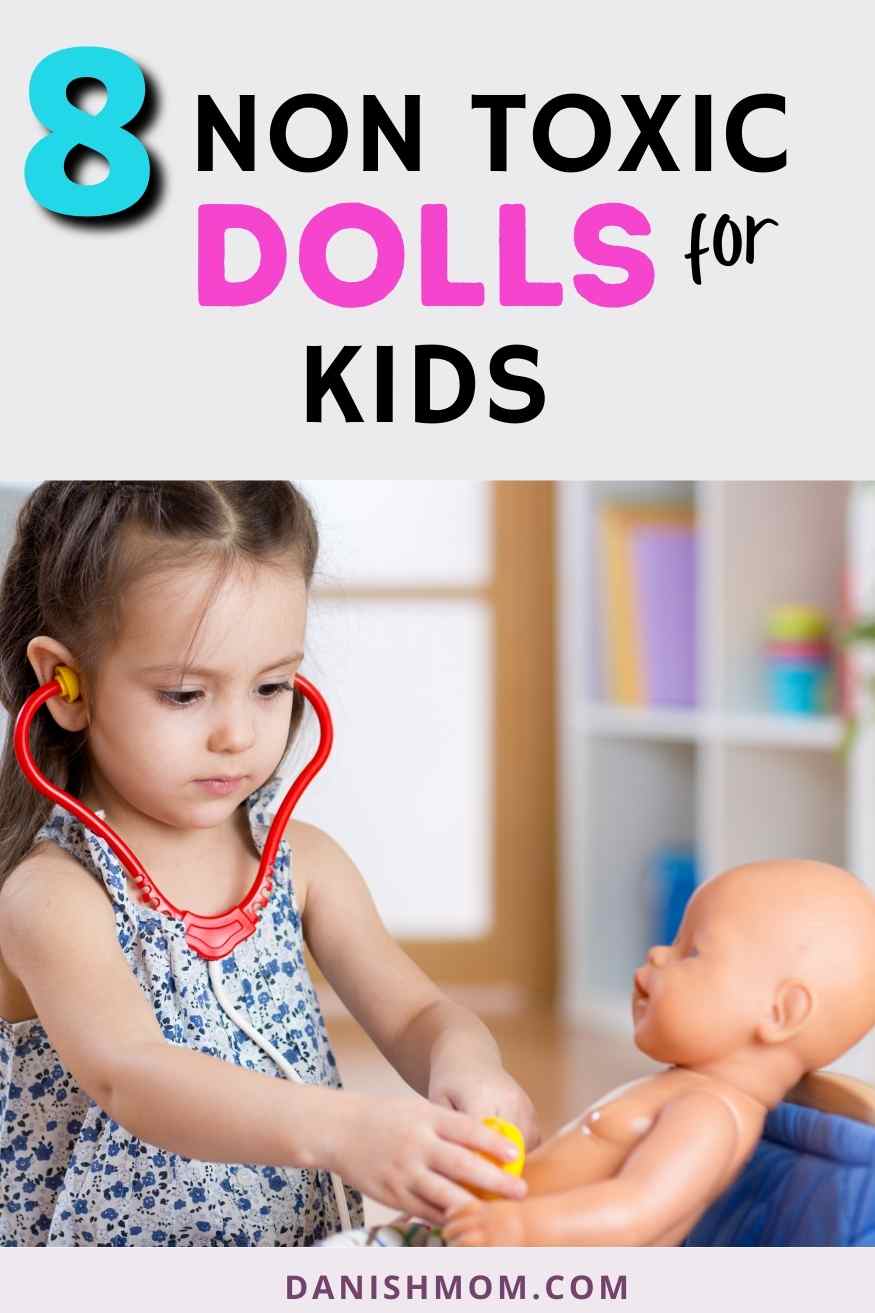 Materials & chemicals to avoid in baby dolls
Given how important dolls are to babies and their development, and how much they touch and interact with them, it is vital that you are buying pvc free dolls and non toxic dolls, if you want to properly look after your baby's health and wellbeing.
Here are the materials to avoid if you want to make sure you're buying non toxic baby dolls.
Bisphenols BPA + BPS
BPA and BPS are both organic compounds that are often used to create plastic products, but exposure to both has been linked to impaired neural function.
Formaldehyde
Formaldehyde is a natural gas used as a disinfectant but also in products made from plastic and even paper. However, exposure to formaldehyde can lead to irritation of the eyes, throat, and lungs.
PVC
I've mentioned many times the dangers of phthalates, which are found in PVC. These chemicals can cause lasting damage to your baby's physical health and must be avoided. And if you're wondering "is phthalate free pvc safe?" the answer is that PVC can still contain a carcinogen known as dioxin.
Lead & other heavy metals
Most people know about the fact that lead is poisonous, and while it is rare to find lead and other heavy metals in baby dolls, it's always worth checking that the pvc free baby products you buy are also lead free.
Known phthalates
As mentioned above, phthalates are extremely dangerous, but they aren't only found in PVC. So buying PVC free dolls isn't enough; also check to see that the products you buy are free of phthalates.
VOCs
VOCs stands for Volatile Organic Compound, and are what causes paint fumes. Exposure to them can cause headaches, vomiting, and dizziness
Pesticides
Most of us know to avoid pesticides but you should always double-check that none have been used in the production of the toys you buy for your little ones.
Tips for choosing non-toxic toys
If you're looking to avoid buying potentially harmful plastic baby dolls and are opting for organic baby dolls instead, here are the things you need to consider and pay close attention as you shop for non toxic baby dolls.
Avoid plastic, especially single-use
Avoid polyurethane foam/flame retardants
Avoid toys that smell like plastic or fruity or perfume
Choose non-toxic paints and dyes (like vegetable dyes or water-based)
Choose natural wooden toys or natural rubber
Choose plush and soft toys (ideally organic)
The best non-toxic baby dolls
On top of non toxic baby dolls, you'll find eco friendly dolls and phthalate free baby products here. Some of these are realistic newborn baby dolls; others are more creatively designed. All, however, are safe and recommended.
Baby Ella, All Natural, Non Toxic, eco-Friendly Doll
Baby Ella is a soft vinyl baby doll that is entirely free of toxic chemicals, making it one of the safest non toxic baby dolls on the market. As a bonus, because Ella is made from vinyl, she's also very durable and can be cleaned just by wiping her with a damp cloth. Buy on Amazon.

Baby Cora, Non-Toxic, All Natural Rubber, Eco-Friendly, Biodegradable Doll
Like Brooke, Cora is an organic baby doll suitable for babies to enjoy without any health and safety concerns. Given her size and her baby-like design, she's one of, if not the best doll for 1 year old, especially amongst non toxic baby dolls. Buy on Amazon.

Wooden Dollhouse Family Set
Made from natural wood and painted with non toxic paints, this set of eight dolls is safe and sturdy and lovingly made for your little one to enjoy. Their clothes and hair are all designed and made with love and attention to detail to resemble the rainbow of people that make up a loving family. Buy on Amazon.

Tippy Toes Cali Cat
This plushy kitty ballerina is all kinds of cute. Her softness makes her ideal for playtime and bedtime, and because she is a non toxic baby toy, she's safe to be enjoyed to your little one's content. Buy on Amazon.

Under the Nile Toddler Sasha Girl Doll
This beautiful, lovingly crafted doll is made from Egyptian cotton, and one of the coolest organic dolls for toddlers on the market! Because she is 100%, she is entirely non toxic and safe to enjoy. Buy on Amazon.

HABA Snug-up Dolly Luisa
Sweet, soft, and snuggly, Luisa is a delightful little charmer. The perfect cuddle companion for your little one. She will offer a feeling of comfort and warmth day and night. Buy on Amazon.

Manhattan Toy Baby Stella
These Manhattan toys come in a wide range of colours and styles, reminiscent of Cabbage Patch Kids. Delightfully designed and incredibly snuggly, your little one can choose their favourite and cuddle to their heart's content. Buy on Amazon.

Marie Kruse Doll
This great little non toxic doll is made from vinyl but is entirely free from phthalates, making it a safe and smart choice for any parent wanting to get their little one a more realistic doll. Her outfits can even be changed and her hair brushed! Buy on Amazon.

You might also like