8 best non toxic high chairs
Danish Mom uses affiliate links, which means that if you make a purchase through my links, I may earn an affiliate commission.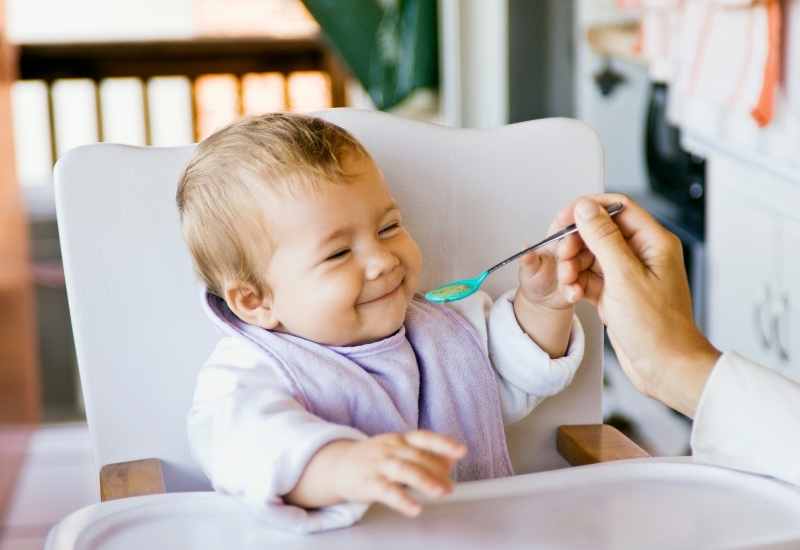 There's a lot to consider when shopping for non toxic high chairs. After all, your baby will eat right off the surface of the chair, so it's wise to pick a safe product without any harmful chemicals.
But how do you know which high chair is non toxic? And which material is better?
I've made it easy for you and listed the best non toxic high chairs below. We'll look at what to avoid and other things to consider when finding the right chair.
Let's get started.
Read next: 5 learning towers for toddlers that will encourage bonding
What to avoid in a high chair
When shopping for the ideal non toxic high chair, you should be looking to avoid things like phthalates, VOCs, and flame retardants. It's common to find these chemicals in high chairs sold by brands and stores like Ikea, so you need to be careful to shop instead for non toxic high chairs.
What to look for
The chemicals I've mentioned above can often be found in polypropylene, polyester, acrylic lacquers, and fiberboard. A good high chair alternative should avoid these materials. Shopping for non toxic high chairs means you'll be getting the safest high chair for your child and an eco friendly high chair that helps the environment.
Best non toxic high chairs
Looking for the best non toxic high chairs that protect your little one from any harmful materials is crucial, but you also need to find an affordable non toxic high chair while making sure it's the safest high chair possible. What you'll find here are the best rated high chairs that consider affordability, safety, and other important concerns.
1. Nomi high chair
This is the non toxic high chair that I personally use. It has a simple, minimalist design, is easy to use, and it grows as your baby does. It's safe and comfortable for newborns, and can continue to be used until they are tweens. The positioning of the low back and open sides actually helps strengthen your baby's core muscles as they grow. When it comes to safety and design, this is the best non toxic high chair on the market right now. Buy yours on Amazon.
2. Stokke high chair
This non toxic high chair is made entirely of wood, and comes in a spectrum of different colors for you to choose from. For added security, this high chair comes with a removable harness. It's incredibly strong, able to support babies from six months to toddlers up to age three. The ergonomic design is perfect for supporting your child's growing body. Buy yours on Amazon.
3. Joovy's Nook High Chair
This is a wonderfully affordable high chair with a simple, classic design and a seat made from faux leather that is delightfully comfortable for your little one to sit, eat, and relax in. The leather seat also comes in five different colors. This high chair can also be folded away quickly and easily, making transporting it simple as can be. Buy yours on Amazon.
4. Mallify high chair
The Mallify high chair is one of the most stylish and aesthetically pleasing non toxic high chairs you'll ever find. Made from hardwood and leatherette, it's easily washable and safe, while looking great. The legs have an easily adjustable height to suit your needs and living situation, and the sophisticated design paired with the non toxic materials makes it a must-buy. Buy yours on Amazon.
5. Keekaroo high chair
The Keekaroo high chair is super strong and sturdy; one of the best non toxic high chairs for safety and security. While it's mostly made from wood, and therefore has a natural wood color and texture, the seat comes in a range of bright colors. The seat and footrest can be adjusted to support your baby until they reach 250lbs. Buy yours on Amazon.
6. Abiie high chair
The brilliant thing about this particular high chair is how it can be transformed into a comfy dining chair once your little one has outgrown it completely. When they move from high chair to regular chair, they can go on using it! This saves you money while allowing them to keep something that they're familiar with and enjoy using. All of this for a very affordable price makes it one of the best non toxic high chairs on the market right now. Buy yours on Amazon.
The best non-toxic booster seats and hook-on chairs
When considering safety and toxicity, it's important to think about all of the items and furniture that you own, and that your little one is going to touch, play with, and eat using. As well as non toxic high chairs, this also includes booster seats and hook-on chairs, especially as they grow up and get bigger. Here are some great options.
7. Babybjorn booster seat
This is an affordable, simple, and comfortable non-toxic booster seat that is made from BPA-free plastic, making it safe to use. As your toddler grows up, they're going to want to sit on a proper seat with you but may not quite be big enough yet. This seat will give them those extra inches needed to enjoy themself at the dining table with you. Buy yours on Amazon.
8. Inglesina hook-on chair
While high chairs are for babies and booster seats are for growing children who need, well, a boost, hook-on chairs are perfect for toddlers who are ready to join you at the table as you all eat together. They hook onto the side of the table safely and securely, and this Inglesina is the best of the bunch. It comes in a wide range of bright colors that you can choose with your little one, and its lightweight yet sturdy nature means it's portable. You can even take it to a restaurant! Buy yours on Amazon.
More stuff you'll love